Volunteer drivers
We need volunteer drivers to help by transporting needy animals in our care.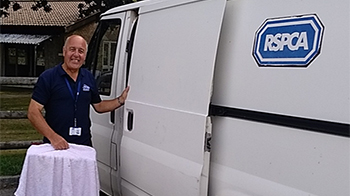 Depending upon the location of the driving role, a van may be provided. In other cases, drivers will need to use their own vehicles.
These roles will require you to handle animals being transported in line with our guidelines, health and safety regulations and to undertake appropriate training as required. Drivers must be able to lift animals of various sizes and weights into and out of a vehicle safely if required. Cat cages and dog crates will be used in order to transport animals safely, so if you are using your own vehicle it needs to be suitable for this.
All drivers are required to have a valid driving licence and if using their own vehicle valid insurance and MOT (if applicable).
Where a van is provided, all volunteer drivers must ensure that they use the van for RSPCA purposes only.
The different driver roles we have are:
Volunteer driver (branch or animal centre)
In this role, you will be transporting animals to and from the local vets for any treatments they may need during their stay with a branch or animal centre. You may be required to use your own vehicle or in some cases, a van will be provided, the branch or centre will provide further details.
Regional volunteer network drivers
Regional network drivers are managed by one of our central networking teams and will have the use of an RSPCA van based at an animal centre. You will be responsible for transporting animals in our care between animal centres, vets or other locations such as private boarding establishments and hospitals as required.
Pets at Home adoption centre driver
You will be transporting animals to and from our local animal centres and our adoption units within Pets at Home stores.
Drivers for Pets at Home are required to have their own vehicle.
If you fancy being a volunteer driver why not see if there is an opportunity in your local area?
Find a volunteer vacancy
A few hours of your time would make a huge difference to the animals in our care.