Computer work
Are you a keen computer user wanting to use your skills to help promote animal welfare? Then we need you!
Computer-based volunteer work can often be done in the comfort of your own and can be very flexible with regards to time - so even if you've only got an hour to spare each week there will be a role for you!
Maintain branch websites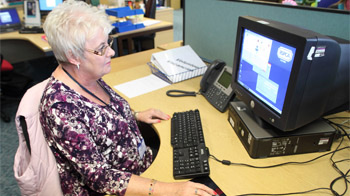 Our branches often need volunteers to help with creating or updating information on their websites.
This could include editorial work such as adding information about pets available for rehoming, or researching and publishing the latest news articles. Or even helping branches develop a new website design.
Help build relationships online
Branches and centres will often need help with maintaining relationships with their supporters online, either through social media or email.
So, if you're keen to develop your community-building skills on Facebook, or have qualifications and experience in email marketing you're keen to put to good use be sure to keep an eye on our volunteer vacancies.
Find a volunteer vacancy
A few hours of your time would make a huge difference to the animals in our care.