Animal care volunteer
From cat cuddling to dog walking or helping out in a hospital or wildlife centre we have lots of hands-on volunteer vacancies that you could get involved with.
As a practical animal care volunteer, you will be provided with training and equipment to ensure you are able to carry out the duties without risk to your health. Therefore, we ideally require a commitment from you to volunteer regularly.
Get involved with the work of our hospitals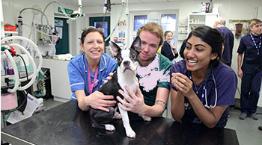 Our hospitals are on the frontline of our animal welfare work. Providing veterinary treatment to sick and injured animals rescued by our inspectors, or pets brought in by local owners.
Volunteer roles in our hospitals can range from cleaning cats or weighing dogs on admission to supporting veterinary nurses in the theatre or on the ward. Or even helping to make the public and their pets comfortable in reception by reassuring them and keeping them informed.
We also need help from qualified vets and vet nurses to carry out nursing duties and to medically and surgically assess and treat animals.
Volunteer to help wildlife at our wildlife centres
If you have a keen interest in wildlife why not help our wildlife assistants with the care and rehabilitation of wild animals and their integration back into the wild?
This is a varied role - you could be helping to hand feed orphaned wildlife, helping with weighing wild animals and recording their progress, or cleaning and preparing accommodation for birds or mammals who have come into our care.
Cat cuddling, socialisation and cattery work
Our centres and branches often need help running our catteries. You could be helping to run the cattery by cleaning out pens, changing litter trays or simply spending time socialising the cats in our care.
We rescue approximately 25,000 cats and kittens each year. With your help we can help them recover from abandonment, neglect or cruelty and find a new forever home.
Dog walking and helping out in kennels
The dogs who come into our care can often spend weeks, or even months, in kennels. We need volunteers to help us make their stay as pleasurable as possible.
Could you help us to ensure the dogs in our care get the time for play, exercise and socialisation they need by giving up a few hours of your time to become a volunteer dog walker?
Could you be a volunteer foster carer?
The volunteer role of a volunteer fosterer is a crucial one and can make a huge difference to the rehabilitation of an animal and their chances of finding a forever home.
Other volunteer roles to help animals
Although not all areas can offer practical hands-on volunteering roles, other volunteer roles still contribute significantly to our work to improve animal welfare.
If you can't get involved in a practical role in your area, why not consider another volunteer opportunity where you can still give your time to make a difference to animal welfare?
Please note: unfortunately we have limited volunteering opportunities for anyone under the age of 16, especially in practical animal care.
Find a volunteer vacancy
A few hours of your time would make a huge difference to the animals in our care.