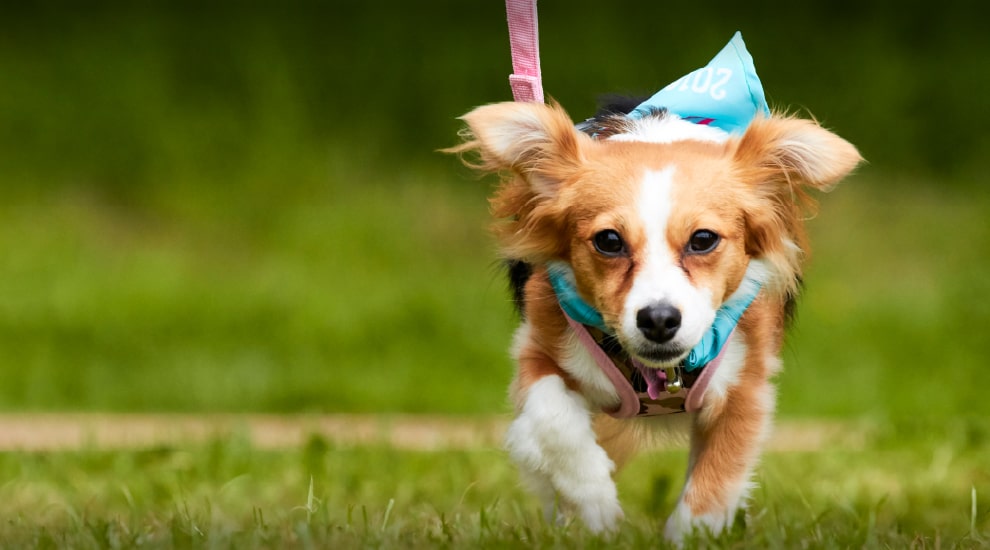 Calling all dog owners! Join our community of walkers this spring and enjoy a whole month of Big Walkies with your four-legged friends.
When: 1–31 March 2023
Where: Anywhere you choose!
Distance: You (and your dog/s) decide
Registration fee: Free
Fundraising pledge: Raise whatever you can
No dog? No problem, you can always find a friend or relative to join you for your walks.
A big thank you to everyone who took part in My Big Walkies 2023, more information on future events will be available soon.
Sign up online (for free!) and pledge your 'My Big Walkies' distance in miles.

Every dog has different exercise needs and you know what yours can manage safely.

Most dogs will need at least one walk a day to keep happy and healthy (ask your vet what's best for your animal if in doubt).

Here's a quick guide:

1 mile a day = 31 miles. Around 20 minutes of walking, is ideal for smaller or older dogs who may struggle with longer distances

3 miles a day = 93 miles. A great distance to aim for over the month to keep you and your dog fit!

5 miles a day = 155 miles. For those who want to push themselves, and have dogs with bags of energy!
When you sign up to My Big Walkies, your Enthuse online fundraising page will be set up for you. It couldn't be easier: set your fundraising target, send the page to your loved ones (or share it on social media) and encourage people to donate online in a few clicks.
Plan some new routes, pull on those walking shoes and head out for your walkies. Enjoy spending time with your dog or dogs, knowing every step you take will help us help dogs and other animals in need.
You can keep track any way you like. Perhaps you already know the distance of your favourite routes, in which case you can just jot them down on our mile tracker (which you can download and print out). For new walks, you could use the distance tracker on your smartwatch or phone, a GPS sportswatch, fitness tracker or a pedometer app.
We don't need to see proof of your mileage, but it's a handy way to keep track – and to share your progress with your sponsors. If you use the fitness platform Strava, you can even link that to your fundraising page for live updates.

Don't forget to share your progress on social media, using the hashtag #MyBigWalkies
You might inspire someone else to take part.
We'll support you every step of the way
Weekly challenges to keep it interesting
Dedicated My Big Walkies Facebook group to share snaps from your walk
Motivational Spotify playlist
Fundraising incentives
Dedicated RSPCA Events Team on hand to help with any questions and support you on your fundraising journey.
Now all you need to do is get moving!