Great British Spring Clean
Join us in the Great British Spring Clean 2022 and be part of The Big Bag Challenge. Between 2020 and 2021 we received nearly 7,500 calls over a two year period, about animals injured or caught up in litter. That's an average of 10 incidents per day and that's only the ones we know about.
This is why our involvement in the Great British Spring Clean is so important to raise awareness about litter's impact on our environment, ecosystems, and wildlife especially.
Why should you join us to Keep Britain Tidy
Our inspectors on the frontline are regularly responding to wildlife emergencies and are rarely surprised by the entanglements and litter traps they release our wildlife from.
We rely on the eyes and ears of the general public, but so many will go unseen and the only way the suffering will stop is if we're more mindful about our litter and how we dispose of it.
Our plea to prevent animals from suffering is simply to join us in the Great British Spring Clean and to help us Keep Britain Tidy.
How to get involved
This spring, join Keep Britain Tidy and the community of #Litterheroes between 25 March and 10 of April in The Big Bag Challenge, all you need to do is make your pledge and share your photographs using #GBSpringClean.
Join the Great British Spring Clean
Masks protect us but are harming our wildlife
Litter is an ongoing problem and on our streets, we're seeing a new litter menace. We are all now used to wearing face masks to help us all keep safe during the coronavirus pandemic. Disposable face masks are a key part of keeping safe and of course, should be disposed of responsibly - yet they are being seen far too often discarded as litter.
Gull tangled in a facemask
In 2020, this led to a poor gull in Chelmsford, Essex, becoming badly entangled by the legs.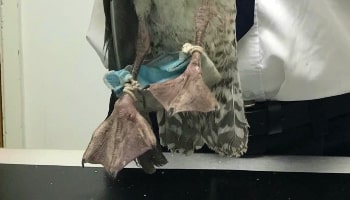 Fortunately, it was spotted and reported to us and we were able to rescue this gull from its predicament, but the incidents we come across always leave us wondering how many more are out there that aren't seen and we cannot help.
"Snip the straps"
It's clear that we need to lead the way by disposing of our masks responsibly and cut the elastic before we do so. It's worrying when we see new trends emerging; these masks need to be disposed of responsibly and we must "snip the straps" to reduce any likelihood of it causing distress to an animal.
Help us to get on top of the new litter issue of discarded PPE, protect our wildlife and make your pledge.