Collections for a loved one
Collecting gifts towards a cause your loved one was passionate about or to remember a much loved pet, can be a positive way to keep their memory alive. Perhaps at a funeral - in lieu of flowers - or on special occasions like anniversaries and birthdays, when you could raise money by organising or taking part in a special event.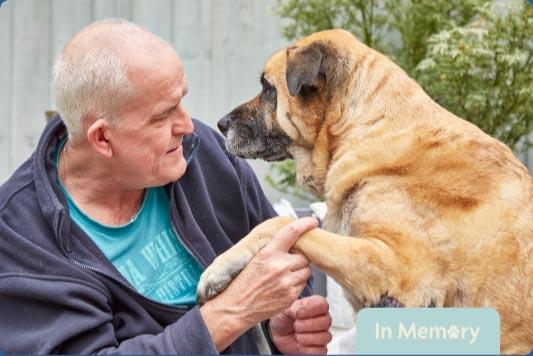 Celebrate a loved one's life by collecting gifts in memory
The best way to make sure gifts reach us is to pay them online.
Tell us about yourself and your loved one
Choose your amount and payment method
Honour the memory of your loved one and help animals
We do also accept cheques, which should be made payable to "RSPCA". Please include your name and full address, your loved one's name, and if a person, your relationship to them and send to:

RSPCA, In Memory Team, Parkside, Chart Way, Horsham, West Sussex, RH12 1GY

Thank you from all of us at the RSPCA. The gifts collected will help to make a real and lasting difference to vulnerable animals.
If you have any questions about any of the ways to give in memory of a loved one, we're here to help. Just contact our In Memory Team and include an email address or phone number to enable us to respond more efficiently to any queries.
Phone: 0300 230362
Email:
inmemory@rspca.org.uk
Post: RSPCA, In Memory Team, Parkside, Chart Way, Horsham, West Sussex, RH12 1GY