We're reviewing our prosecutor role to focus on frontline cruelty
We've announced we're exploring the transfer of our animal welfare prosecuting role to the Crown Prosecution Service (CPS) to focus on our frontline work rescuing and caring for animals and investigating cruelty.
As part of our new ten-year strategy, Together for Animal Welfare, we've considered where we want to be in 2030 and beyond following important legislative and societal changes.
Crucially, one of our flagship campaigns to introduce tougher sentences for animal abusers, which we anticipate will come into force in both England and Wales this year, means that those inflicting cruelty and suffering on animals face potentially longer jail terms of up to five years. This places a big responsibility on us.
This isn't a step back from prosecutions
Our Chief Executive, Chris Sherwood, said:
"We're proud of our history bringing animal abusers to justice and for many years we've been the right people to do this vital work. However, the world has changed and we have to change with it.
"We're pleased that this year could see one of our hard-fought campaigns to raise the maximum penalty for animal abuse from six months to five years become reality, but this also means a big change in the way cases are prosecuted and sentenced. Some of these cases will now move to crown courts and those carrying out the worst abuse could face lengthy jail terms. This places a huge responsibility on a charity's shoulders. We believe this responsibility should sit with the Crown Prosecution Service, which is a statutory public body with regulatory oversight.
"Alongside this, we're seeing trends with cases with hardened criminal gangs involved in puppy farming, dog fighting, cockfighting or hare coursing, sometimes with millions of pounds changing hands. We're an animal charity and our concern is welfare but these complex cases can involve serious offences such as fraud or weapons. We've already seen puppy farming reports to us increase five-fold in a decade and with the increasing demand for puppies during lockdown we believe more of these complex cases will come our way.
"Let me be clear that we wouldn't be stepping back from prosecutions, only from our role as the prosecutor. Our inspectors would still be rescuing, investigating and collecting evidence of cruelty and abuse and seeking to hand this over to the CPS. We believe that there may be a better way to ensure animals get the justice they deserve by bringing together our expertise in investigations with the CPS' skills and resources. We'd like to reassure the public that we will not step back from the role of prosecuting until we're assured that the CPS has the commitment, the resources, and the expertise to make sure that animals continue to get the justice they deserve."
Still making sure justice is being done for animals
Our move is a strategic decision as we want to work more in partnership with other charities and organisations to ensure that our vital services are sustainable and that resources are focussed on our vital and unique rescue, care and investigation work where we can make the most difference to animals.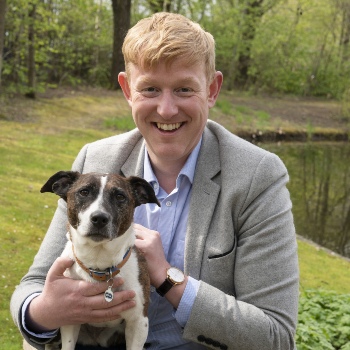 Chris said:
"We launched our new strategy this week and a key part of this is working in partnership with other organisations with the responsibility and expertise to support our work.
"The CPS is the statutory body with responsibility for taking prosecutions in England and Wales and by working more closely in partnership with them, we can free up resources to focus on our unique frontline investigation, rescue and care work, where we can make the most difference to animals.
"However, we reserve the right to take a prosecution in future if we feel that justice is not being done for animals."
Allowing us to reach animals in need faster
Just 1% of more than 100,000 reports of cruelty and neglect that we receive each year end up in the courts. The vast majority of cases are dealt with through advice, education and support.
We're also seeking statutory powers under the Animal Welfare Act 2006 for our frontline animal rescuers as part of the new strategy.
This means that they would be able to reach animals in need more quickly, allowing them to access private land and outbuildings, although crucially not homes, if there was a reasonable expectation that an animal was suffering. It will also reduce pressure on the police at a time when their resources are stretched.
These changes would bring England and Wales in line with Scotland and Ireland where the SPCAs have statutory powers and pass their cases to the state prosecutor.
Chris continued:
We want statutory powers to help our inspectors do more to help animals and, with these increased powers, it makes sense that we separate out these functions. We know this system has worked successfully for decades in Scotland. Under this proposed model, we would continue to have a key role in making sure animal abusers don't go unpunished, investigating complaints of cruelty and abuse and would pass our evidence to the CPS for the long-term work of prosecuting those responsible.
Our new strategy's eight key priorities
Chair of our board of trustees, René Olivieri, added:
"I believe people's expectations of charities are changing and the sector has to work even harder to maintain and enhance trust in our vital work. There is, rightly, real scrutiny of the work that charities do and this would bring us in line with other charities in the British Isles - no other charity is the principal prosecutor for a whole category of offences, in our case, animal welfare.
"We've carried out this important work for a long time but the RSPCA has changed in recent years - we have new governance, a new chief executive, a new board and a new strategy; it's the right time to review this role as we look at where we want to be by 2030."
We made this decision as part of our new strategy, Together for animal welfare, which sets out eight key priorities up to 2030:
Reduce neglect, abuse and cruelty to companion animals - including exotic pets - in England and Wales by 50%.
End the illegal selling of puppies and kittens in the UK.
See more than half of all the UK's farm animals reared to our welfare standards and encourage people to 'eat less; eat better' by encouraging people to eat less meat, fish, and dairy and fewer eggs from low welfare farms, and to only choose higher welfare labels.
Secure a global commitment to developing, validating and accepting non-animal technologies to replace animal experiments, and put an end to severe suffering for laboratory animals.
Establish animal protection as a significant governmental goal in both England and Wales supported by an independent public body, legally established- an Animal Protection Commission.
Achieve statutory powers in both England and Wales for our inspectors under the Animal Welfare Act 2006.
Secure the adoption by the United Nations of a comprehensive Universal Declaration on Animal Welfare.
Inspire a one million-strong movement for animal welfare by 2030 using our new Community Engagement Programme to mobilise more people to help us help animals.
Chris added:
"We'll continue to work tirelessly over the next 10 years and beyond to rescue and care for animals in need, inspire kindness and compassion to animals and change attitudes, behaviours and laws. We recognise that we can't do this alone and our strategy is also a rallying cry to individuals, communities and other organisations to help us make sure no animal is left behind.
"We have the opportunity to make significant strides forward for animal welfare by 2030. We will always be there for animals."
---