Huge rise in reports to us about ear cropping
Reports about the illegal practice of dog ear cropping have surged over the past year, prompting comedian Ricky Gervais to back a campaign to crackdown on the problem.
Our new figures released this week, show a 621% increase in the number of reports of ear cropping and cropped ears raised with us in the last six years. From 2015 to 2020, we had a total of 279 reports of the practice made to our emergency hotline.
Ear cropping is illegal in England and Wales, under Section 5 of the Animal Welfare Act 2006. However, the practice is still legal in other parts of the world, such as the USA and some European countries, and there's a fear that more and more dogs are being sent abroad for cropping, or being purchased and imported from overseas.
Our dog welfare expert, Dr Samantha Gaines, said:
"Ear cropping is a barbaric practice that is illegal in England & Wales. But, worryingly, we're seeing an upturn in the number of reports being made to our cruelty line about dogs with cropped ears and we're extremely concerned that this trend is becoming increasingly normalised, glamorised and popular.
"We fear that images being shared on social media and used within advertising as well as high-profile sports stars and celebrities buying dogs with cropped ears is making the look more popular and maybe influencing others to do the same."
Tackling ear cropping
We've been working with dog trainer Jordan Shelley, whose petition calling on the Government to ban the importation of dogs with cropped ears gathered more than 45,000 signatures.
Passionate animal welfare enthusiast and comedian Ricky Gervais has also backed the campaign. He said:
It's horrific to think that something as barbaric as ear cropping still goes on. It causes these poor dogs so much suffering and it's completely unnecessary. To think anyone would do this to an animal just for the sake of image is disgusting.
The Government has said that ear cropping is 'abhorrent' and has pledged to explore options to tackle the import of dogs that have been mutilated in such a way.
Ear cropping has no benefits for the dog and tends to be carried out purely for cosmetic reasons. The process can, in fact, have serious, long-term welfare implications for a dog's health and behaviour.
Jess is sensitive to noise and has 'pain memory' from cropping
Two-year-old Cane Corso Jess - who has had her ears cropped and her tail docked - was frightened, malnourished and weak when she arrived at our Ashley Heath Animal Centre, in Dorset, in 2020.
Jess Norris, who's been taking care of Jess for months, said:
"Her cropped ears have affected her in many ways, some that are obvious and some that aren't. We believe she has 'pain memory' which has led to her being very sensitive to having her ears and head touched. She's uncomfortable having her harness slipped over her head or a lead clipped on, and this has prolonged her muzzle training.
"She's more susceptible to ear infections and has had two in the time she's been with us. She's also incredibly sensitive to noise. We don't know for sure but this may be as a result of a lack of protection compared to if her ears had been left intact. She's also incredibly nervous around men and we believe she may have bad associations of men from her past.
"People and other dogs can struggle to read Jess's body language as she has no ears and no tail to communicate with. Where we would normally look for relaxed ears to tell us she's happy and comfortable, or a tail tucked between her legs to show she's nervous, we have none of these signs. We also find that people judge her because of the way she looks and believes she may be aggressive which absolutely isn't the case."
We're taking in more and more dogs with cropped ears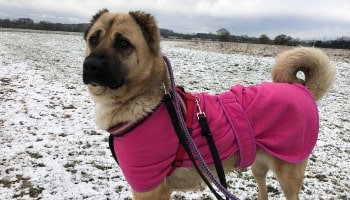 Ezra and Rambo were two of four dogs signed over to our officers by their previous owners and arrived at our Danaher Animal Home, in Essex, last month.
Animal manager Craig Horsler said:
"Ezra and Rambo are stunning Anatolian Shepherds. The breed is an ancient guardian breed that was traditionally used in Europe for livestock guarding. Both dogs are really happy, friendly shepherd's despite the fact that they've had their ears cruelly cropped."
The large, strong dogs haven't yet shown any obvious signs of problems associated with their ears but staff are aware that they could have difficulties with health in the future. They're looking for new owners with experience with big breeds and homes with large gardens for them to enjoy and explore.
Craig added:
"Ezra is a gentle, sociable dog and loves the company of other dogs so may be able to live with another dog. She's a loving, affectionate dog who loves to be stroked and spend time with people.
"Rambo is a laid-back gentleman but can be strong on the lead and can sometimes be over-excited. He loves human attention and enjoys laying next to you for fuss. He loves to spend time outside and socialises well with other dogs."
---