Animal rescuers busy over Xmas and New Year as abandonments up 29%
While many of us enjoyed spending time with loved ones, festive films, and filling food this Christmas period, our officers were out helping animals in need.
We operate 365 days a year and this Christmas and New Year was no exception. Over the festive period (24 December - 1 January), the RSPCA's officers and inspectors responded to a total of 14,301 calls from members of the public. Throughout the whole of December 2021, there were 58,394 calls from members of the public.
There were 1478 reports of abandoned animals - up 29% on last year when the teams were called to reports of 1,049 abandoned animals during the same period.
Dermot Murphy, who heads the RSPCA frontline rescue teams, said:
We are already seeing abandonments rise month on month and are braced for a surge of abandoned and neglected animals as pet ownership soared during lockdown, with an estimated 3.2m people welcoming pets into their lives last year. We're asking people to Join the Rescue this winter to help us help animals and bring abandoned animals to safety.
Festive season rescues
Here are just some of the rescues carried out by the teams over the festive season.
Christmas Day kittens
A stray cat and her four newborn kittens - who were born on Christmas Day in Kent - were rescued. A resident of Alamein Gardens, Dartford, had been feeding a stray cat for some time and noticed, on Christmas Day that she'd given birth to a litter of four kittens.
They called us for advice and Inspector Kirsten Ormerod went to collect the cats and took them into RSPCA Leybourne Animal Centre.
They'd been keeping an eye on a sweet stray cat for some time but became concerned after seeing her with a swollen belly. Then, on Christmas Day, they spotted the four newborn kittens that she'd just given birth to.
We were concerned about the vulnerable new family in the cold, wet weather so we went out to collect them and they're now safe in our animal centre.
Oh deer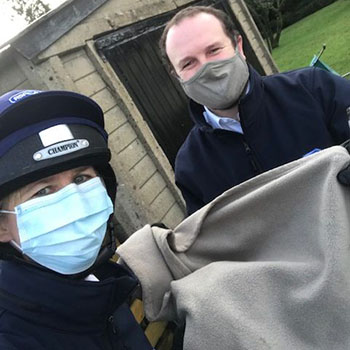 The first day of the New Year proved to be an eventful one for two officers who rescued a male fallow deer entangled by his antlers in rope in the Forest of Dean. We were called by a property owner after the distressed fallow buck was seen thrashing around in a desperate bid to free himself from a rural garden in St Briavels.
His large antlers had become entangled in the nylon rope - which was attached to a post - and the frightened mammal had pulled down several sections of wooden fencing as he struggled to get away.
Inspector Suzi Smith, who has over 20 years of experience with the animal welfare charity, said she knew from speaking to the caller and getting an accurate description of the situation that two officers would be needed to help free the stricken animal.
Inspector Smith, along with her colleague Richard Carr, attended the scene and worked quickly to calm the deer by placing a blanket over his head so they could start to cut away the rope.
Deer are strong, powerful animals but they are also very sensitive to stress and can go downhill very quickly, so we knew we needed to work calmly and swiftly. You always have your heart in your mouth with these sorts of incidents, but we were probably only there for about 20 minutes as speed was of the essence.
Thankfully, once we had managed to cut away the rope, we could see that the deer was none the worse for his ordeal and we were pleased and relieved to see him run back off across the fields, shaking off the blanket as he did so.
Sadly, we get contacted regularly about animals trapped in fencing and netting, often animals which are nocturnal, like hedgehogs, foxes and badgers. Sometimes they can be struggling for so long to free themselves that they suffer horrific injuries, which can be fatal.
Seal heroes
Two seals, who have received weeks of treatment at RSPCA West Hatch Wildlife Centre after being found as underweight pups, were released back into the sea in Wales on Christmas Eve. Poplin and Cashmere were severely malnourished and weighed just 12 and 10 kilograms respectively, when they were picked up at around eight-weeks-old at Martin's Haven and Pwlldu Bay beaches in October and November. A healthy female seal pup of that age normally weighs about 40kg. The pair were transferred to the specialist wildlife centre where they received weeks of specialist care.
Animal rescue officer (ARO) Ellie West released the seals into the waters off the Gower Peninsula at first light.
Being able to release these seals back into the wild was definitely an early Christmas present for me. Cashmere and Poplin were very underweight when they were picked up, but the staff at West Hatch have done a fantastic job getting them ready for release.
Grilled buzzard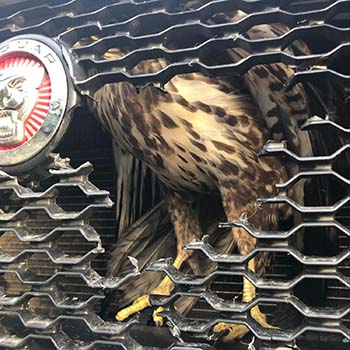 A buzzard who was hit by a car before getting wedged behind the front radiator grill overnight was released back into the wild after she was rescued. Inspector Claire Little was sent to an address in Harrogate on Tuesday, December 28 when a motorist realised she had a buzzard trapped in her Jaguar car.
The woman had been travelling home the previous evening and felt a bump when driving. She later realised her car had struck the bird of prey which had then become trapped. She frantically called round mechanics to see if they could remove the bumper and free the buzzard but was struggling to get help so called us to help.
She thought the car had hit something and she then found the bird stuck in the car grill - who was miraculously still alive. I went along and was able to carefully remove the bird from the front grill of the car by removing some parts. I then checked her over and amazingly she didn't seem injured - she just had a few ruffled feathers but no cuts on her body.
The plucky buzzard was taken into the care of a wildlife specialist and she was able to fly later that day. Her condition was monitored and then she was released back into the wild on New Year's Day.
---