'Alarming' rise in reports of ear cropping for third year running prompts RSPCA concerns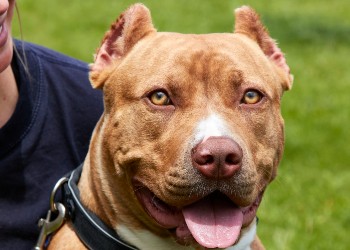 Celebrities have backed the RSPCA's calls to crackdown on ear cropping after the charity recorded another year-on-year increase in the number of reports of the illegal practice to its cruelty hotline.
The UK's leading animal welfare charity recorded the highest number of complaints relating to the cropping of dogs' ears in 2021 since records began in 2015.
The RSPCA has seen an 86% increase* in the number of reports of ear cropping in dogs in England and Wales over the last year. In 2020, our investigators received 101 reports of the illegal practice but that rose to 188 in 2021.
Actor and presenter Ross Kemp said:
The cruel trend of cropping a dog's ears to make them seem tougher has to stop. It's an illegal practice that serves no purpose and causes the dogs pain and suffering which can affect them for the rest of their lives.
The RSPCA has been calling for an end to the import of dogs with cropped ears which I fully support and I would urge anyone who thinks it is a good idea to get a dog which has been mutilated in this way to think again.
We've seen a significant year-on-year rise since we started recording these figures in 2015, with a total of 467 reports to our emergency hotline in total. From 2015 to 2021, the number of reports of ear cropping rose an 'alarming' 1,243%. This may partly be down to increased campaigning and awareness of the issue, but there are fears it could have been driven by celebrity culture and social media.
Ear cropping is illegal in England and Wales, under Section 5 of the Animal Welfare Act 2006. However, the practice is still legal in other parts of the world, such as the USA and some European countries, and there's a fear that more and more dogs are being sent abroad for cropping, or being purchased and imported from overseas having undergone the painful procedure.
Dog welfare expert Dr Samantha Gaines said:
Ear cropping has been illegal in the UK for a long time; and for good reason. It's a barbaric, painful procedure that is carried out purely to achieve a desired look and to make a dog appear tougher.
However, removing a dog's ears can have serious, lifelong implications for that dog. Dogs who have come into our care having had their ears brutally cut off - usually without anesthetic or pain relief - are often nervous around people and sudden movements, may struggle to socialise with other dogs and humans, and can be head-shy.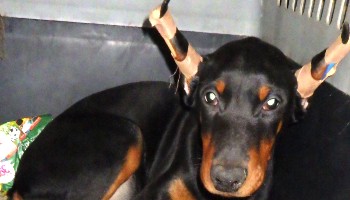 The RSPCA fears that the increase in reports has come from a surge in the popularity of cropped dogs driven by celebrities importing pets and personal protection dogs from overseas, as well as social media, advertising and popular culture using dogs without their ears normalizing and even glamorizing the look.
We believe many of these dogs are cropped abroad, in countries where the practice is, sadly, still legal, before being imported into the UK. In 2021, the RSPCA backed a campaign calling for the importation of cropped dogs to be banned; something the UK Government has pledged to do as part of a crackdown on the importation of dogs.
Dr Gaines added: "We're thrilled that the UK Government responded to the campaign and has pledged to tackle this issue as part of the Kept Animals Bill. We want to see legislation to tackle this awful procedure pass through parliament as swiftly as possible because, sadly, our rescuers continue to see dogs every day who are suffering as a result of ear cropping.
"The number of reports being made to us show an alarming increase compared to just a few years ago and we need to stamp out this animal cruelty as soon as possible. Dogs need their ears, and we need legislation that better protects dog welfare."
Developments in Wales
In Wales, a recent BBC documentary suggested that unscrupulous traders are exploiting existing loopholes in legislation to pretend puppies having their ears cropped domestically had actually been imported instead.
More than half of all eligible Members of the Senedd have since signed a Statement of Opinion, tabled by Natasha Asghar MS, calling on the Welsh Government to 'redouble its efforts to stamp out the illegal and cruel mutilation of dogs in Wales', and highlighting the worrying rise in reports of ear cropping to the RSPCA.
RSPCA Cymru has now teamed up with fellow charity, Hope Rescue, offering to support the Welsh Government with a promotional scheme aimed at reminding the public about the laws on cropped dogs and the welfare issues the procedure can cause pets.
Senedd Members are also due to vote on a legislative consent motion, which would allow the Kept Animals Bill to apply to Wales too. If passed, this would pave the way for giving Welsh Ministers the power to introduce regulations banning the import of cropped dogs into Wales.
'Many people can't see past Dora's ears'
American bully Dora and her eight littermates were 15-weeks-old and had all had their ears cruelly cropped when they were rescued by the RSPCA in January last year. She was taken in by the team at Ashley Heath Animal Centre, in Dorset, where kennel supervisor Jess Norris took her on as a foster dog before adopting her.
"Dora is such a loving and affectionate girl," Jess said. "She's such a friendly, sweet-natured dog; however many people don't see that because they can't see past her ears.
"Dora has been lucky in many ways. Thankfully, she isn't bothered when you touch her ears or her head, as many cropped dogs are. But she is incredibly fearful of new objects, particularly those that make a noise. She's terrified of the sound a tape measure makes when it's retracting, she's also frightened of bin bags, umbrellas, the knife sharpener. Even the sound of a friend inhaling on a vaping device leaves her barking in fear; I believe it may be fear associated with the sound when she had her ears cropped."
Dora and her siblings had all had severe, crude cropping of their ears. Some were left with staples embedded in their ears and others had sore, infected wounds. As well as making the dogs nervous, their cropped ears also have a big impact on how they are seen by the public - something Jess finds really upsetting.
"I feel so fortunate to have Dora in my life," Jess said. "I just wish other people could look past her ears and see her for the dog she really is, but people judge her because of the way she looks. People often cross the road, pick up their children and lead their dogs in the other direction when they see us coming.
"As soon as people have the opportunity to meet Dora properly, she quickly steals their hearts with her soft and gentle nature. Sadly, because of the cropping, she is stereotyped."
Anyone who suspects someone is cropping their dogs' ears should report this to our emergency hotline on 0300 1234 999.
---