Is there real fur on your bobble hat?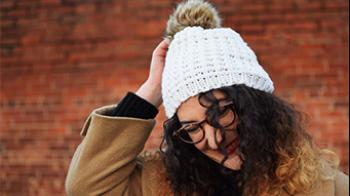 Now that the temperature is dropping, it's time to wrap up warm.
However, there's one thing troubling us this winter
We're pretty concerned about the use of real animal fur on some items of winter clothing. Coats with fur lining and furry bobble hats are particularly popular at the moment and what many consumers don't know is that some of these are made from real animal fur.
You could be unwittingly funding cruelty by buying real fur by accident.
Fur farming was thankfully banned in England and Wales in 2000, but it's still legal to import fur products from other countries.
Shockingly, real fur can often be produced and sold for less than fake fur.
Animals raised for their fur in other countries often live in cramped, barren cages - with little ability to exhibit any natural behaviours or enjoy much quality of life. Many are killed in horrific and inhumane ways.
From these countries, fur can make its way onto the British high street and may not be labelled as real.
We carried out a survey that showed that 95 percent of the public would never wear real fur, but many items for sale in the UK are either incorrectly labelled or not labelled at all - confusing shoppers who would never normally dream of contributing to this cruel industry.
Make sure that you're not accidentally buying fur!
Take action now
Luckily, our friends at the Humane Society International have created a handy guide to help consumers identify whether fur is real, so you can take action now and make sure anything furry you buy really is 'faux'. You can also sign their petition calling for an end to the fur trade.