Women in science: Meet the RSPCA team
Did you know that we have four science departments here at the RSPCA? Each one is dedicated to a different area of expertise - wildlife, companion areas, animals in science, and farm animals. You won't find our team dressed in lab coats but you'll find them using science to help the RSPCA provide for and safeguard animal welfare.
Our team is made up of industry experts who are committed to making a difference for animals through cutting-edge animal welfare research. The work they do is hugely varied - let Evie, Alice, Chloe and Sam tell you more about their work. Let's meet the team!
Evie Button, MA Zoology - Scientific Officer (Wildlife Information Coordinator), Wildlife team
"Although I might not be wearing a lab coat, science is still the backbone of all the work I do."
I'm a Scientific Officer in the Wildlife Department, which sits within the Science and Policy Group. Our small team works on improving the welfare of both captive and free-living wild animals through research, promoting awareness of their welfare requirements, and we emphasise a precautionary and humane approach to human interactions with wild animals. The work we do is really wide-ranging and covers a huge diversity of different species in a variety of situations.
I've been part of the Wildlife department for nearly five years, first as a volunteer for two days a week before starting my current job in December 2018. Previously, I studied zoology at university which covered areas such as animal behaviour, ecology, evolution and conservation - all of which have come in very useful for this job!
I'm also in my third year of studying for a masters degree in international animal welfare, ethics and law which has been hard work alongside my job but also incredibly rewarding. I've always wanted to work with animals and the work that I do here gives me the chance to make a difference by applying the science that I've learnt to real-life situations, to help both animals and people.
One of the things I enjoy most about this job is the variety of animals we're asked about and that I get to research - every single day is different! I think many people don't realise the range of species that our animal rescuers, centres and branches have to deal with - people are often surprised when I say that we rescue tortoises, care for snakes and rehome parrots as well as cats and dogs. And Britain's wildlife is incredibly diverse too; our four specialist wildlife rehabilitation centres took in 182 different species of animals last year alone.
Although I might not be wearing a lab coat, science is still the backbone of all the work I do. That might include answering questions from members of the public about the behaviour of a wild animal they've seen that they're concerned about, helping to write an article for our supporter's magazines about the fascinating ways animals have evolved to defend themselves or updating our website with information about how to live alongside wildlife based on new scientific research that's been published.
We'll also get involved in commissioning and funding research, publishing papers, attending and presenting at scientific conferences and analysing the RSPCA's own data on our rescue, rehabilitation and rehoming/release work. This all helps us to make sure that the advice we give is based on the latest scientific evidence; whether that's providing care information for owners of pet reptiles, or guidance for hedgehog rehabilitators on the best time of year to release hedgehogs back to the wild.
I feel very lucky to be working at an organisation where I can combine my love of animals with my interest in science, and be able to work with so many fantastic people to help improve the welfare of animals.
Learn more about our work to protect wildlife.
Alice Potter, BSc (Honors) Animal Science, MSc Clinical Animal Behaviour - Scientific Officer, Companion Animals team
"I love being able to use science to help improve the welfare of cats and with so many other female colleagues in the Science and Policy Team, it's a really inspiring and empowering place to be."
I am not a scientist in the traditional sense - no lab coats here! However, science is fundamental to my role in the RSPCA Science and Policy Group where we use up-to-date, evidence-based information to inform our vital animal welfare work.
My role is specifically focussed on cats and whilst not everybody loves them, I certainly have an affinity with them. They're sometimes mislabeled as grumpy or aloof and I feel passionate about helping people to understand and care for them better - and science can help with this.
The more evidence we have about cats' behaviour, preferences, nutritional needs, ancestry, domestication, social groups, body language, circadian rhythms and much more, the better placed we are to give advice which is really going to help improve their health and happiness.
Giving sound cat care advice is hugely important and can help improve the welfare of many individuals, but scientific information can also be used to help on a population level. For example, we know from scientific research that neutering has many positive benefits for cats, such as a reduced likelihood of certain cancers and FIV (feline immunodeficiency virus).
Evidence-based research has been vitally important in helping to get vets onboard with four-month neutering too. Traditionally cats have been neutered at six months but since they can become pregnant from four months, we know that can be too late and accidental litters can be born as a consequence. Using up-to-date peer-reviewed scientific evidence, we've been able to help reassure many vets that kitten neutering is safe and the best option for both the kitten and their owner.
Something I really respect about cats is their individuality. The breadth of variety in their behaviour, personality and lifestyle is huge. Similarly, jobs in science are hugely varied and come in all shapes and sizes. Mine fits me just right. I love being able to use science to help improve the welfare of cats and with so many other female colleagues in the Science and Policy Team, it's a really inspiring and empowering place to be.
Read Alice's latest blog: Thinking of getting a kitten during lockdown?
Dr Chloe Stevens, Scientific Officer - Animals in Science team
"Here at the RSPCA, we want to see all animal experiments replaced with humane alternatives."
I'm a Scientific Officer in the RSPCA's Animals in Science Department. We work with people involved in the regulation, care and use of animals in research and testing in the UK and around the world to try and reduce the impact of science on animals.
Around four million animals are used for scientific research and testing in the UK each year and more than 100 million globally. Animals are used for many different purposes and each raises specific ethical, welfare and scientific issues.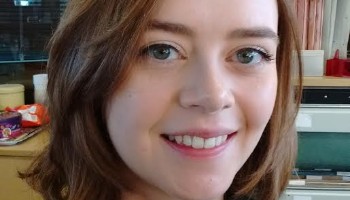 Here at the RSPCA, we want to see all animal experiments replaced with humane alternatives, but this is unfortunately not something that will happen overnight. Until this can be achieved, our work helps to ensure that the minimum numbers of animals are used, they experience the minimum suffering, and their welfare is significantly improved.
One of the main things I do is to encourage people to think about and challenge whether and how fishes are used in science - as well as highlighting where practical improvements can be made to reduce suffering and improve welfare.
Lots of members of the public are surprised to learn that millions of fishes are used in research around the world - in fact, the second most commonly-used animal in research and testing in the UK is a species of small tropical fish called the zebrafish.
You can read more on my blog: Fishes have feelings too: diving into fish myths and setting the record straight.
I spend a lot of my time producing resources, writing articles, giving presentations and having discussions with scientists and animal care staff about how we can better understand and meet the needs of fishes in laboratories.
I also help facilitate information sharing amongst scientists, vets and animal care staff. We're currently organising a major conference which will bring together over 500 'online' participants to discuss and share ways to reduce suffering and improve welfare for fishes used in research and testing.
Another thing I do is write content that explains how amazing fishes and other aquatic animals are, and why it's important that we respect and protect these animals:
Read my latest blog: Wild animals used in vaccine tests: What's being done to help.
Other important work includes contributing to leading a pioneering project aimed at ending 'severe' suffering in lab animals, which has so far seen year on year fall in the number of animals experiencing this level of suffering and an overall 51% decrease since 2014.
We also work hard to promote and support the role and effective operation of the local ethics committee at every research establishment using animals in the UK. They play an important role in helping to challenge whether and how animals are used. All of this work helps us to take steps towards a world where all animals are respected and treated with kindness and compassion.
Find out more about animals in science.
Dr Sam Gaines - Head of Companion Animals team
"Working at the RSPCA allows me to use science every day to safeguard animal welfare and I absolutely love doing what I do!"
I joined the RSPCA in 2009 as a dog welfare specialist and Deputy Head of the Companion Animals Department. Prior to this, and after gaining an MSc in Applied Animal Behaviour and Welfare, I worked as a research scientist for the Ministry of Defence studying the behaviour, performance and welfare of military and Police working dogs. During this time, I was hugely lucky to be given the chance to study for a PhD on the effects of housing and husbandry on the welfare of kennelled dogs.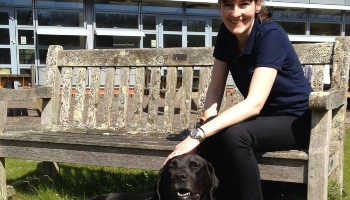 It was shortly after this, that the job at the RSPCA was advertised and it felt like the perfect way to combine my passion for science and welfare.
The RSPCA strives to base its policies, activities and approach on scientific evidence and offers a platform to influence key stakeholders to improve and protect animal welfare - so it seemed like a great opportunity! As well as this, the companion animals department was very new and so it was an exciting time to start.
When I joined, the small team was already working hard and making their mark to improve and protect the welfare of dogs, cats, equines, rabbits and a host of other small furries. One of my first projects was working as part of a coalition to challenge the use of aversive training techniques in light of the ever-growing research demonstrating their detrimental impact.
Fast forward 12 years, and I have been head of the department for six years. My role is even more wide-ranging and I lead, drive, support and inform activities and initiatives on a broad range of companion animal welfare issues involving all parts of the charity. I also work extensively with external stakeholders, including trade and industry, animal professions, government, regulators, police, military and academia.
In the years that I have been with the RSPCA, I have sat on various working groups, charged with drafting a range of legislation; provided the scientific and technical evidence for numerous political and public campaigns including #EndBSL, #ForPupsSake and #DogKind.
A significant part of my job, and one which I surprisingly enjoy, is representing the RSPCA in the media, communicating scientific information on a variety of companion animal welfare issues in an understandable and engaging way.
When people think of scientists they tend to think of people in labs wearing white coats and goggles but science is so much more than that - I spent most of my PhD data collection surrounded by dogs outside! For many scientists, the excitement of new discoveries is what provides their daily motivation, whereas I was and continue to be driven by the desire to make a difference for animal welfare - especially dogs. Working at the RSPCA allows me to use science every day to safeguard animal welfare and I absolutely love doing what I do!
Find out more expert advice and information on pet care.
Meet more of the team
Now that you've met some of the science team, why not meet some more of team RSPCA? Pets included!
---