How we helped animals during the First World War
Words by Helen Kedie.
In 2024, we'll be celebrating the 200th anniversary of the RSPCA. To celebrate our long history, we're looking back over nearly two centuries of our history to find moments to bring to life for you. Today, we're remembering the brave soldiers and the animals that fought in the First World War.
Helping the 1,000 horses that were sent to fight in WW1
War was declared on 28 July 1914 and animals were sent to serve alongside British troops in France and Belgium - horses, mules, donkeys, dogs and even pigeons. Around 1,000 horses a week were sent to fight. At the time, the RSPCA trained men served as Veterinary Corps (AVC) to look after horses.
Within weeks of the war starting, we set up the RSPCA Fund for Sick and Wounded Horses. At that time the fund raised over £250,000 (that would be more than £12 million today) between 1914 and 1918. Even King George V himself made a donation!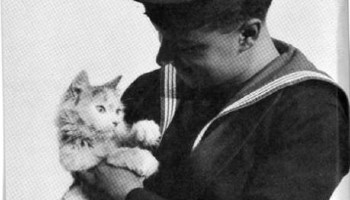 The fund paid for four fully equipped field hospitals with state-of-the-art operating theatres. Each could hold up to 2,000 horses.
At the time, the hospitals treated 2.5 million animals during WWI. Eighty percent of them were taken back to the front lines again.
Our Fund bought 28 motorised and 180 horse-drawn ambulances to carry injured horses back from the fighting to the vet hospitals. And we didn't confine our support to British forces. The fund provided eleven motorised ambulances to the American army, as well as provided assistance to the Canadian army.
By the end of the war, the Fund for Sick and Wounded Horses had become truly international, supporting activities in France, Italy, Mesopotamia, Salonika and Egypt.
How the RSPCA made a difference for animals during WW1
The RSPCA Fund for Sick and Wounded Horses also provided:
Three motorised lorries to carry food and medicine.
50 corn crushing machines to help prepare the horses' food.
Tens of thousands of waterproof cloths, bandages, rugs and sheepskins.
50,000 books on lameness and animal first aid.
Tonnes of medicines and veterinary equipment.
Hay and food for all the horses.
AND... 4,000 skips and 100 iron trucks to deal with all the horses' poo!
Remembering the soldiers and animals we lost
More than eight million horses died in WWI, many on the front lines. Lots of our inspectors had been soldiers before they joined the RSPCA. Many rejoined the army to fight in WWI and sadly, 18 of them were killed.
A letter from Field Marshall Douglas Haig, from the British Army, said:
Animals have been exposed to very severe trials and hardships and have suffered heavily, not only as battle casualties but through the exhaustion and loss of health consequent on the severe stress of work.
Their lot has, however, been greatly lightened, and their comfort in sickness materially added to by the assistance, which the RSPCA Fund has been able to give.
In 2004, a memorial to all the animals who served and died in WWI, and other wars since, was unveiled in Hyde Park, London. It's been over 100 years, but we will never forget them.
This story appears in the autumn issue of Animal action, the RSPCA's junior magazine for under 12s.
You can subscribe for just £7.50 for four issues per year.
Find out more about our history of helping animals
---