Batty for bats: Our team of animal rescuers don't just help cats and dogs

Did you know? We rehabilitate 250 bats every year...

Poor trapped bat rescued from a fishing hook and line
Wildlife injured by angling litter such as fishing line, weights and hooks, rose by 48% between May and June this year. We suspect that the easing of lockdown put in place by the pandemic, along with a spell of good weather has seen a rise in people taking up outdoor activities (such as fishing) and causing an excess of discarded angling litter...
One casualty was a little bat found hanging six foot above a river. The poor bat was caught by a discarded fishing hook and tangled line that was caught swinging from a tree branch in Somerset.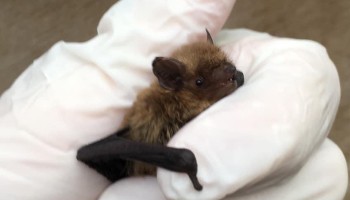 Our Animal Collection Officer, Dean Wilkins, who was called to the rescue, said: "Thankfully the person who spotted the bat waited until I arrived to point her out.
As she was so tiny it would have been impossible to find her otherwise. They'd first thought it was a leaf before realising it was actually a distressed bat trapped by the fishing line and hook."
After being cut down, the bat was taken to our West Hatch Wildlife Centre where the fishing hook was safely removed. The rescued bat was then thoroughly checked over for injuries. While being cared for, the centre staff discovered that she was lactating. With dependent young pups waiting at home, the healthy bat was released straight back into the area she was found in, that very same evening!
Adam Grogan, our Head of Wildlife, said: "It's tragic for animal lovers like us to see the effects of discarded litter like this, especially when there's such a simple solution: clear up your litter and take it home with you."
Our helpline has received 393 calls about fishing litter across England & Wales since the beginning of the year, with 97% of those calls made between May, June and July.
Why not join the Great British "Spring" Clean (now hosted in September) and make a difference for animals in 2020?
Struggling, underweight bat returned home to the wild
An underweight and struggling Natterer's bat found in Pontyberem has been returned to the wild following a period of rehabilitation at our wildlife centre. The tiny bat was found by concerned members of the public on Llannon Road in the Gwendraeth Valley village on 14 July.
He was very underweight and our team believe that he had "struggled in the wild" during his early life. Our animal collection officer, Ellie West, initially fed the bat electrolyte fluids from a syringe, before the little guy moved onto a diet of mealworms as his recuperation continued.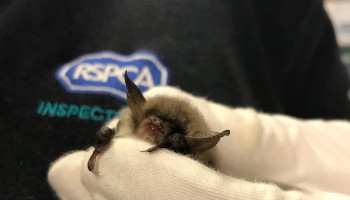 The bat's weight and energy transformed after some tasty meals and fluids. The well-fed bat was then gradually exercised to build up his strength ahead of his return to the wild.
Fortunately, the bat was deemed healthy enough to be returned to the wild on 7 August, another heart-warming and memorable moment for our hard-working team!
The Wildlife Trusts say the Natterer's bat is a "scarce species" in the UK and so his happy ending was truly a celebration in many ways. Talking of the successful release mission, Ellie said:
"When we released him back to the wild, there was a lot of other bat activity - with pipistrelle bats and other Natterer's bats flying above us. We're just glad we were able to assist this bat so he could happily join in!"
Should you wish to help our dedicated team to continue our vital rescue work, please do consider donating online. Our dedicated team of animal rescuers has remained on the frontline responding to animals in emergency situations throughout the Covid-19 pandemic and will continue to do so. Thank you for your ongoing support.
Have you found an orphaned bat? Find out what to do.
Did you know?
We've cared for more than 15 bat species, including some less common ones, such as barbastelle, grey long-eared, lesser horseshoe and serotine.
---