Adopting a companion for my lonely rabbit (and helping them bond!)
A blog by Ren Shilcock, our fundraising email officer and owner of rabbits Luna and Rocket.
In March 2020, I woke up to find that one of my house rabbits, Marmite, had forgotten to wake up, leaving my other rabbit, Luna, by herself. Unfortunately, the lockdown was well and truly underway which made finding Luna a new friend that little bit more difficult.
As lockdown progressed, I could see that Luna was missing having company. She became my second shadow and would follow me around everywhere, constantly asking for attention. As much as I tried, there were many times when I just couldn't give that to her.
I realised how important it was for rabbits to have a friend
When Marmite first passed away, I knew that I would have to get Luna a friend, but I hadn't realised just how important a friend was to a rabbit until I got to see first-hand how much she was missing out.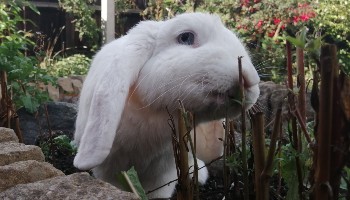 I'd started my search for Luna's new companion, but I struggled with finding her perfect match. I needed a companion who was going to be of similar temperament. I must have looked at just short of a hundred different rabbits available, but none were our perfect match.
At the beginning of August, I moved house. Luna adored her new living environment - but there was still something missing, a rabbit friend. Now that I was settled in a different area, I restarted my search for a suitable match. It was then that I stumbled upon a lone Flemish Giant who was available for rehoming.
A week after finding my new rabbit Rocket, I brought him home
I noticed that he was a fair distance away from me (a two hour drive) but this was the first time that I'd found a rabbit available for adoption at the RSPCA Chiltern Branch who ticked all of my boxes.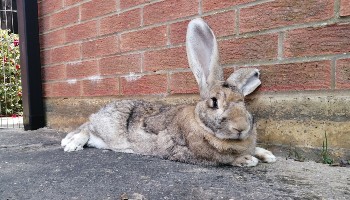 He was looking for a friend too, needed a garden to hop around in, and wanted a human that could be around to give him the attention he needs. I filled out an application form.
Admittedly I didn't hold out much hope. He was a beautiful bunny, he'd probably had hundreds of applications in. Also, due to the distance of where I lived and where he was in foster, I didn't think I'd be chosen.
However, I quickly got a response asking whether I'd like to come and meet him that weekend! I then made the four hour round trip to see him. A week later, after sending pictures and videos of my garden and where Rocket was going to be kept, I brought him home.
Rabbits Luna and Rocket took it slow at first
We took it slow for the first few weeks. They lived in side-by-side pens where they could see and smell each other. They also had regular supervised dinner dates where they spent time together in a neutral area. After a while, they were gradually coming round to the idea of living with each other!
Luna became so much more active following the new arrival - who I named Rocket. She would always head over and sniff at him through the bars of his pen. She would be happy just to be near him (which made a change from her being under my feet whilst I work from home!).
Helping my rabbits bond was worth every effort
My kitchen became a labyrinth of pen panels to keep them separate but also to allow them the space to move and interact safely with one another. It was really important that they got used to the sight and smell of each other before they were introduced.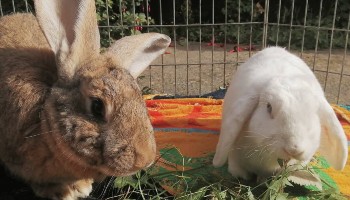 Bonding rabbits can be a very lengthy process but I was willing to put in the effort.
Over the next six weeks, we did dinner dates and held regular 10-minute sessions of them together in a pen in the garden - swapping litter trays and everything in between. As they got more used to each other, these sessions started to get longer.
When rabbits bond, they do have scuffles as they try to determine who is in charge. This was hard to watch seeing as Luna is quite a bit smaller than Rocket!
Eventually, these scuffles happened less frequently. After what seemed like forever, I was finally able to let them loose in the same space together without them fighting. Luna was still wary of Rocket, but they were happy to eat together without issue.
If I'm honest, I'm not sure what happened next! I left them alone to watch TV, came back into the kitchen to give them dinner and they were cuddled up together. I spent the rest of the evening watching them closely, but I need not have worried. They happily sat together, taking it in turns to groom each other and generally just sticking close to one another.
Read more: How to bond rabbits.
Providing a friend for Luna and a home for Rocket has been so rewarding
It's been a long six weeks, but it's been so worth it. Seeing them now cuddled up together, knowing that Luna isn't lonely whilst I have to work is the best feeling in the world.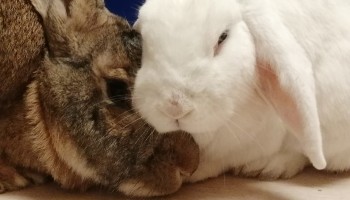 Knowing that I've adopted Rocket and provided him with a loving home is such a wonderful feeling too. I hope others do the same this Adoptober to find their lone rabbits their perfect partners.
Anyone who's on the fence about getting a second rabbit, definitely go for it! If you're willing to put in the time, the reward of having bonded rabbits is heart-warming beyond words.
You can follow Luna and Rocket's adventures over on Instagram.
Are you interested in adopting rabbits?
Are you looking for a friend for your bunny? Or maybe to adopt a pair of bunnies? Find your perfect match today.
---