Heron found trapped and injured in Bristol flies free after RSPCA rescue and rehabilitation
RSPCA animal rescuers, who lent a helping hand to a trapped and injured heron, released the bird back into the wild where he belongs after spending a month recovering from his injuries at one of the charity's specialist wildlife centres.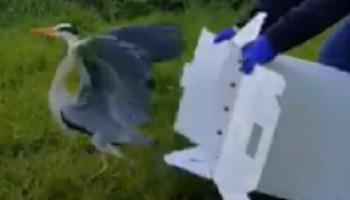 The heron was rescued after finding himself tangled in pond netting in Stoke Bishop, Bristol in April. Unable to escape, the trapped bird had to be cut free before being taken for specialist care at RSPCA West Hatch Wildlife Centre near Taunton.
The clip, which was filmed by one of the animal welfare charity's wildlife casualty volunteers who help the charity's team of inspectors and animal rescue officers by collecting sick, injured, or orphaned birds and small mammals, and transporting them to our wildlife centres, wildlife rehabilitators and vets, shows the special moment the bird flies away before perching on a tree.
RSPCA Animal Rescue Officer, Ellie Jones, who freed the heron near to the River Avon in Bristol, said:
It's always the best part of the job when we release wildlife back to where they belong.
This stunning heron had sustained injuries to both wings and extensive netting damage to his right leg.
Being caught and entangled in netting doesn't only cause the initial obvious injuries but can also cause injuries that appear later on due to constriction damage.
He received treatment in one of the outside covered aviaries at RSPCA West Hatch Wildlife Centre, where the team ensured he was comfortable and eating well while his wounds healed.
Learn more about our rescue work and what to do if you see an injured wild animal.
---