"I may have adopted him, but it was he who rescued me."
This month is the RSPCA's annual rehoming campaign 'Adoptober' and this World Mental Health Day the charity is shining a light on the wellbeing benefits of the pets who share our homes and lives.
From our work and personal lives to our health and wellbeing, the last year has presented a huge number of challenges and impacted on many people's mental health. Thankfully, for many, pets have provided an amazing source of support, from being a stay-at-home companion, exercise buddy, or simply our reason to get up in the morning.
45% of pet owners said their pets helped their mental health
An RSPCA poll by YouGov last year found that 45% of pet owners said their pets had helped their mental health during lockdown. So it's no surprise that pets have become much-sought-after in recent months, with unprecedented levels of interest in fostering and adoption as well as reported shortages of puppies and kittens.
In January 2021, RSPCA saw a 55% increase in searches for animals on its website's FindAPet page, with 527, 919 visits in March 2020 compared to 1,329,417 in (that's 30 hits on Find A Pet every minute in January - nearly 1,800 every hour).
The RSPCA's Head of Companion Animals, Dr Sam Gaines said:
This month is Adoptober for the RSPCA but October 10 is also World Mental Health Day and we want to shine a light on the wonderful benefits we can enjoy from sharing our homes with rescue pets. Studies show that pets can have benefits to our mental health and wellbeing and many have found their animals a source of comfort and companionship during the pandemic.
But research also shows that our pets can also mirror our stress as they are very capable of responding to human emotional expression, can sense how we are feeling, so it is also really important to consider how our behaviour and lifestyle may impact on their own mental health.
It's really important to understand your pets' body language and behaviour so you can recognise when your pet is stressed out. Sometimes if your pet develops behaviour problems, such as attention-seeking behaviour or clinginess, it can be a sign of fear or frustration.
This Adoptober we want to celebrate the benefits that rescue pets bring to our lives and also raise awareness of the enormous difference we can make to their lives by highlighting what you can do to also help their mental health and wellbeing.
Nine benefits pets bring to our mental health and wellbeing:
Vital companionship for those who live alone or are spending time working from home alone
A reason to get out of the house, to exercise daily and keep to a routine
They encourage us to be sociable and chat to others we meet on walks
They are calming and relaxing to stroke or groom, which releases oxytocin, a hormone that brings us closer together with the people around us and can make us feel more confident
They can build confidence in new situations and provide a great talking point
They make us responsible for another's life, health and wellbeing
They give us an ongoing project to focus on - training and teaching them tricks
Pets encourage regular breaks from screens, which can help our wellbeing
In the case of dogs, even when we just look into their eyes - our bodies release oxytocin, a hormone that brings about bonding between individuals as well as helping us feel more optimistic and lowering blood pressure
Aisling Traynor, Head of Advice & Training at Mental Health UK, said:
There are so many benefits of looking after a pet, from forging a sense of companionship to helping us maintain a sense of routine and making sure we stay active and spend time outside. Over the last 18 months, there's been no doubt that pets can help to lift our spirits if we're in a good position to give a home to a rescue animal. That's why we're supporting the RSPCA's Adoptober to raise awareness of the benefits rescue pets can bring to our lives - and how we can all make a difference to their wellbeing too.
Here are some of the amazing rescue pets that have helped their owners through tough times:
Arthur the kitten
Mother-of-two Cheryl Hague, from Sheffield, adopted a kitten from the RSPCA in October last year and said it really helped her daughters Lauren (17, pictured with Arthur)) and Zoe (14) through a particularly tough time in their lives.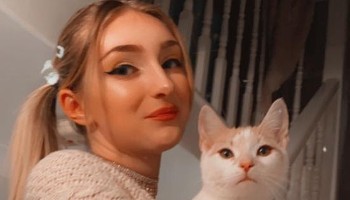 Due to lockdown both were fed up at home without contact with their friends and as well as this they were also coming to terms with the fact their much-loved grandma was terminally ill with cancer. They persuaded Cheryl, a press officer for the RSPCA, to adopt a kitten which she had written a press appeal about after he was found dumped in a carrier bag and park in Birmingham.
Named Arthur, after the character in The Peaky Blinders series, Cheryl said the mischievous kitten brought some light into their home at a really dark time. They also used to take the kitten up to visit their grandma during the latter stages of her illness and he always made her smile - she was really taken with him.
Sadly their grandma passed away on Lauren's 17th birthday - just a fortnight before Christmas - but Arthur's antics climbing up the Christmas tree and knocking down decorations did provide a welcome distraction. Arthur continues to make everyone smile with his cheeky ways - and even their rescue dog Bruno has taken to him.
Joey the dog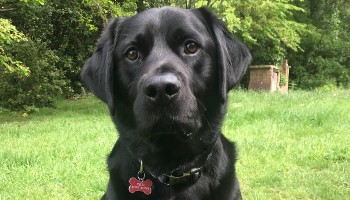 When Sara Howlett's parents adopted black Labrador Joey from the RSPCA Essex in 2017, she was over the moon to have a playmate for her own Spaniel Archie when visiting the family home. Joey's Mum had been rescued by the RSPCA after she was neglected, and Joey and his 11(!) litter mates were born in foster care.
Sara (41) accompanied her Dad Arthur to collect Joey, and the pooch formed an instant bond with the whole family. Joey grew from the smallest pup in the litter to an enormous but lovable clown, but little did Sara know how much he would help her through the toughest of times.
Two days before lockdown in March 2020, Sara's beloved Dad, Arthur, passed away, leaving the family devastated and cruelly unable to be together due to the nationwide restrictions. Sara said:
I don't think you can ever be fully prepared for losing someone close to you. Losing Dad shook my world to the core. Life had changed in so many ways in a matter of days.
On the days when I needed to take comfort and spend time with friends and family to help me remember the good times, strict lockdown restrictions meant I couldn't see them, let alone hug them. But I was lucky that I had Joey, and my cocker spaniel Archie, by my side. I was looking for a constant in very uncertain times and I found it in Joey.
The days I just didn't want to even get out of bed, I made myself do so, even if it was just to make sure Joey and Archie were fed, walked and had a play with a ball in the garden. The one hour of exercise we were all allowed was precious to me. It was, of course, spent walking the dogs in the local woods. It gave me that one bit of normality I needed. But it wasn't just through exercise and walks that Joey helped me through those first hazy days and months of grief.
Joey has always been a sensitive boy and has an innate knack for coming for a snuggle when you need him the most, or coming over to lick your hand when you're feeling upset. There have been many times when he has quietly sat beside me when I've hidden away to cry. He just seems to know. He always knows when I'm having a bad day.
When the world started to open up again, one of the first places I went to was a dog play barn close to where I live. Joey and Archie ran around the barn, leaping onto all the obstacles, climbing up the A-frames and jumping over hurdles. They loved it, and I think it was the first time in a long time I felt really happy.
I don't think I can ever thank Joey enough for his love, affection and for the happiness he has brought. I'll never get over losing my Dad - but Joey has helped to get me back to myself and helped me get back on my feet. He's been a comfort and a best friend on the worst of days. I know it's said about a lot of rescue dogs but it's true: I may have adopted him, but it was he who rescued me.
House rabbits Archer, Mable, Benjamin and Mona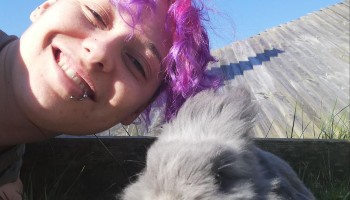 Emily Dimer from West Sussex says her four house rabbits have been 'amazing' in helping her to cope with challenges including a change of jobs before lockdown as well as obsessive-compulsive disorder (OCD), anxiety and depression.
Emily rehomed the rabbits - Archer, Mable, Benjamin and Mona - at separate times during the last year from a small local animal sanctuary. She said:
I was in a challenging place personally and had been signed off from work at my previous job due to ongoing struggles with my mental health, and I was looking for somewhere I could spend some time that was outdoors but where I could also be useful. I have always loved animals and already had two chinchillas at home, so when the opportunity came to help at the rabbit sanctuary, I thought it would be a good fit. Soon enough I met Archer, and we had an instant bond, and I knew I had to offer him a permanent home with me.
Mabel soon followed as Archer needed a companion, and I was drawn to her because of her difficult behaviour - I wanted to do some good and help her overcome her fear and aggression. This proved to be a fantastic challenge that kept my mind and my time occupied for several weeks. A bond formed between Mabel and I, who is now extremely affectionate and friendly. It was an amazing experience for me.
Emily rehomed Benjamin and shortly after, Mona, and the two sets of pairs live harmoniously together in Emily's home, with plenty of space and separate areas. Emily, who works for the RSPCA from home, has even constructed a desk out of rabbit hutches so she and the rabbits can enjoy each others company all day. She added:
The rabbits really are wonderful company. Anyone who has shared their home with a rabbit will know what great characters they have and how interactive they are. They're also very sensitive to my mood, and it's so comforting when I'm having a down day to be able to reach my hand down from my desk and know one of the rabbits will instantly hop over to nuzzle me. At the end of a challenging day I sit down among them and they come up straight away for affection or to play, and it's that bond that really does keep me going.
They're my reason to get up in the morning and they rely on me to care for them, and if I'm not up and about on time in the mornings they really do come looking for me. My mind empties when I'm with them because I'm so busy giving them attention, or feeding them - and there's really nothing as joyful as watching a rabbit 'binky!'
How to understand your pet's behaviour
The RSPCA has produced a number of infographics to help owners understand cat, dog, rabbit and horse body language.
If pets are feeling worried or anxious then there are lots of things owners can do to help them feel happier including setting aside time for play, exercise, rest and training. There is lots more information about this on the RSPCA pet pages. Sam continued:
Pets are amazing - often we think we are rescuing them but they end up rescuing us. They are such an important part of our lives and they bring real benefits to our health and wellbeing.
But it's so important that we consider their mental health too. By taking the time to understand your pet's behaviour and body language, you can make sure you are keeping them happy and healthy.
This Adoptober we're urging anyone thinking of getting a pet to consider adopting rather than buying an animal. Anyone who is thinking of getting a pet should do their research and check they have the time, money and lifestyle to care for an animal for its whole life.
Are you looking to adopt a rescue animal?
To see the RSPCA animals who need loving new homes, visit Find a Pet online.
---