Gift a Dog Kennel Sponsorship
What's included in your gift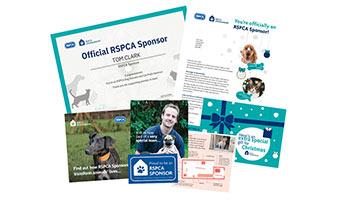 A Sponsor's pack
Full of stories and info about the animals whose lives they'll be helping to transform.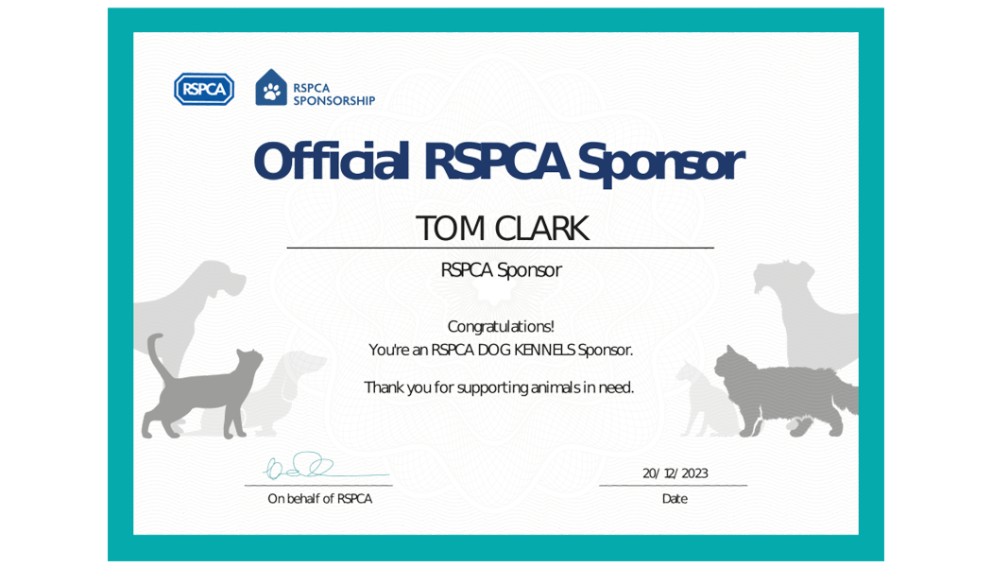 A personalised certificate
A certificate in recognition of their support. Looking for a last-minute gift? You can also download this to print at home.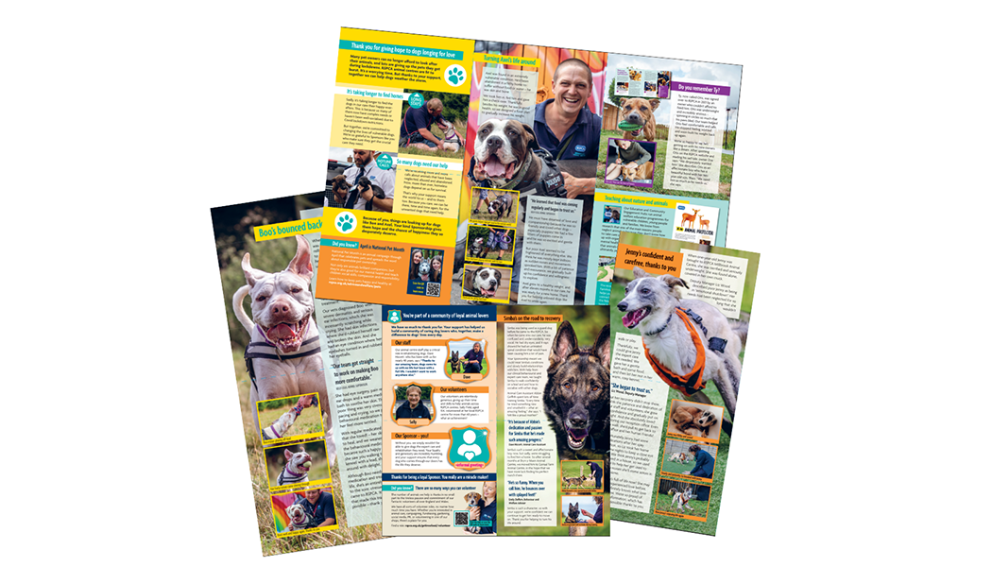 Regular updates
They will get regular updates throughout the year with heartwarming stories about the wonderful difference they're making.
Got caught up in a Christmas flurry? Don't worry, we've got you covered. You can print a PDF version of your Sponsorship gift certificate straight away. You can help transform animals' lives and make it in time for Christmas - all wrapped up in a nice little bow.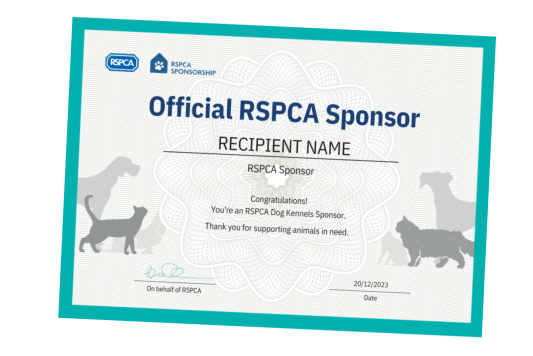 How will my gift make a difference?

When you give someone special the gift of Dog Kennel Sponsorship, they can be a part of incredible transformations taking rescued dogs from their most vulnerable to the happiest, healthiest and most loved they have ever felt.

Sponsorship doesn't just give dogs a safe place to stay, it helps give them everything they need to transform their lives. From vital care and veterinary treatment to training, food and cuddles – every month, you will help bring rescued dogs closer to the bright future they deserve.

You could also sponsor both Dog Kennels and Cat Pods!
Do I sponsor a specific dog?

When you become an RSPCA Sponsor, you sponsor our Dog Kennels in our animal centres. Your generosity will help provide many rescued dogs with a safe place to stay – as well as all the care, food, veterinary attention and love they need to have a happy, healthy future.

What do the Dog Kennels look like?

Each dog has their own Kennel, unless they come to us as a pair, in which case they might share. Puppies stay with their mothers and littermates.

Dog Kennels are cosy, warm and calm spaces, with acoustic ceilings to help reduce noise and provide a quiet environment for nervous dogs. Each also comes with its own outdoor area so that dogs have space to play and stretch their legs. Of course, every dog also gets plenty of time in our special exercise areas where they can run around, chase balls and receive the training they need.

Of course, when you sponsor Dog Kennels, you're also giving dogs everything that comes with these – the care, training, vital veterinary care, food and love they need to have a happy, healthy future.

What's included in my gift?

As an RSPCA Sponsor, they'll get:

A Sponsor's pack welcoming them on board, packed with information about how their Sponsorship is helping. They'll also get to meet some of the animals whose lives have been transformed thanks to RSPCA Sponsors!
A personalised certificate to recognise their amazing support. You can also download and print this for those last-minute gifts!

Regular updates with a closer look at how we're putting your Sponsorship into action – as well as heartwarming stories about the incredible animals whose lives you are helping to transform.

You can let us know how you want us to communicate with your recipient when you sign up to send your gift.

Can my recipient visit an RSPCA animal centre?

Absolutely! We love having visits from our Sponsors. If you'd like to visit, please make an appointment first so we can make sure we can accommodate you. For more information contact your local RSPCA animal centre.
How does your money help?
Your generous Sponsorship helps us to care for rescued dogs in RSPCA centres, providing:


Warm and cosy Dog Kennels


Nutritious food


Vital veterinary care


Specialist behavioural training


Socialisation training to build up their confidence


Personalised love and care from our expert staff​​​​​​​​​​​​​​


Help to find their forever home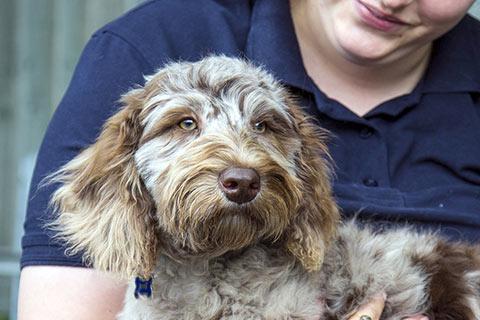 Sponsors helped transform the lives of
1,252 dogs
in our centres in 2022
On average, a dog spends
142 days
in our centres in 2022
Transformations made possible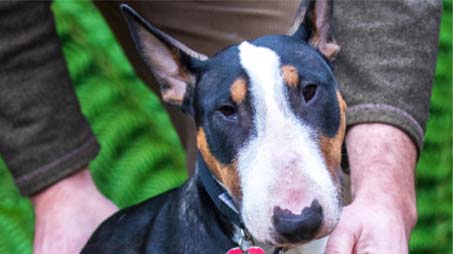 From locked up to loved and cared for
Ruby was found locked up in a small room with no food or water. Thanks to RSPCA Sponsors, we gave her the loving care she needed to recover.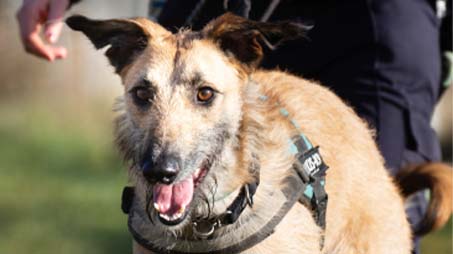 From a broken leg to a bright future
When abandoned dog Steve arrived with a broken leg, RSPCA Sponsors helped give him the care he needed to recover – and have a happy future.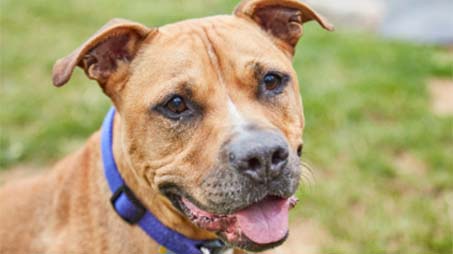 From scared of people to social and loving
Otis's cruel treatment meant he was terrified of people. With the help of RSPCA Sponsors, he slowly got used to being around people again and he's now a completely transformed dog.