Abandoned dog hopes to find home
Billy was abandoned on Valentine's Day and is now just looking for love. The RSPCA hopes to find a loving forever home for an abandoned Staffordshire bull terrier who appeared on fundraising company Omaze's new TV advert - after already spending more than 270 days in RSPCA care.

Billy
, a nine-year-old Staffie, was found abandoned in the Camden area of London and brought into the RSPCA Finsbury Park Hospital in London on February 14 this year.
He was very stressed after his ordeal but the staff soon realised just how lovely and friendly he is. He required some dental work, had an upset tummy and also needs on-going pain medication for his mobility. Billy was treated at the hospital until being transferred to RSPCA Southridge in Potters Bar in April.
Anna White, manager at RSPCA Southridge, said: "Billy has such a sweet nature. He was sadly abandoned and handed into our London hospital earlier in the year. You could tell from the hospital notes just how much they loved him there and we feel the same. Billy just adores people and loves fuss."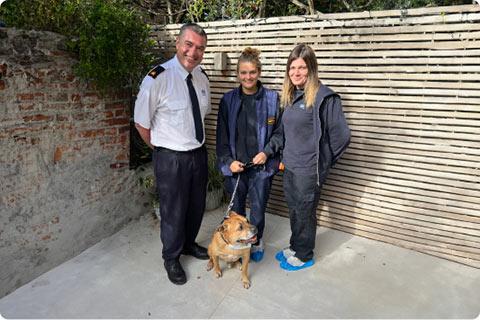 Billy with the RSPCA team
He was such a star at the Omaze shoot and I'm told that everyone loved him there too. We really hope his 15 minutes of fame will help find him the living home he so deserves.
Anna White, Southridge manager
His placid and friendly nature saw him taking a starring role in Omaze's TV advert with actress and
RSPCA Ambassador Joanna Page
recently. This was filmed to help spread the word of the new house draw as the RSPCA and Omaze have once again partnered-up to offer one very lucky person a chance to win a fabulous house in Somerset worth over £3 million and £100,000 in cash - while at the same time raising vital funds to help rescue animals in need like Billy.
Dermot Murphy, RSPCA inspectorate commissioner, said: "As many of us prepare for a cosy Christmas with our loved ones and our much-loved pets, there are sadly thousands of animals facing a bleaker reality. The RSPCA needs your help more than ever to help animals because animal neglect and abandonment are reaching a three-year high this festive season.
"RSPCA rescue teams are set to be busier than ever this Christmas. This year, abandonments have soared and many rescue centres are full to bursting. Right now, thousands of animals are facing pain and misery. But by buying a ticket to be in with a chance of winning the fantastic Omaze house, you can also help the RSPCA transform countless animals' lives this Christmas - just like Billy."
Billy with Actor and RSPCA Ambassador Joanna Page