Fostering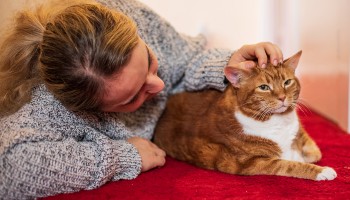 The volunteer role of a fosterer is a crucial one and can make a huge difference to the rehabilitation of an animal and their chances of finding a forever home.
We try to rehome our animals as quickly as possible, but if they are involved in a prosecution case we could have them in our care for long periods.
Some animals need one-to-one care or perhaps don't cope well in an animal centre environment and this is where our team of fantastic fosterers come in...
What does the role involve?
There are two types of fostering role at the RSPCA:
Fosterers for animals ready to be rehomed.
Fosterers for case animals whilst the legal proceedings take place.
All fosterers are responsible for the welfare of the animal in their care and are a crucial part in the rehabilitation of the animal.
If you are interested in the role of an animal fosterer, use our volunteer search to find opportunities near you.
If there is nothing listed in your area, then it's always worth checking with your nearest RSPCA branch or animal centre.
Find a volunteer vacancy
A few hours of your time would make a huge difference to the animals in our care.