Phasing out lab animals
The RSPCA has set out eight important goals that we want to achieve by 2030. As part of our work to help lab animals, we're calling on governments and all those involved in the use and care of lab animals around the world to:
Agree that 'phasing out' the use of animals in science is a desirable goal, and
Show leadership and commitment to achieving this with clear plans
And we know that the UK public support us: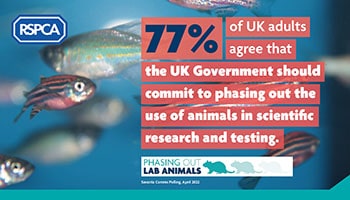 According to Savanta Comres Polling (April 2022): "Over three quarters (77%) of UK adults agree that the UK Government should commit to phasing out the use of animals in scientific research and testing."
Help us end lab animal use
Show your support too and join our campaign to phase out lab animals.
Alternative methods
We've always had serious concerns about the use of animals in research and testing. As well as the impact on the animals involved, there has been increasing recognition of the scientific limitations of many animal 'models' and tests.
At the same time, there has also been encouraging progress with developing humane alternatives to many animal experiments. But this isn't happening anywhere near fast enough. In many cases, there are real scientific obstacles to be overcome. For example, alternative methods may not currently be available. But people can also be slow to accept the non-animal alternatives that do exist - sometimes because they don't know about them or how to use them.
10 things that need to happen to phase out animal experiments
Commitment to the principle that 'phasing out' the use of animals in science is a desirable goal.
Leadership from government, industry and scientists, including clear strategies for replacing animals with alternative technologies and new approaches
A culture at every laboratory that strives to replace animals, supported by senior management and championed by local animal ethics committees
More funding and other incentives to encourage the development of non-animal technologies, and to support their use
Greater collaboration between people with different expertise (such as scientists, engineers and mathematicians) to advance the capabilities of technologies and approaches that do not involve animals
Increased awareness and sharing of knowledge between scientists, regulators and funders about 'alternatives' that are already available
Training and support for scientists in the new skills and equipment needed to move to non-animal approaches and methods
Critical analysis of the actual benefits arising from current animal experiments
Rethink of current testing requirements
Rethink about the types of tests and information currently required by law to inform decisions around the safety of medicines and chemicals
Faster process of validating 'alternatives'
Faster process of validating 'alternatives' to ensure they are effective, and clear guidance on what is needed for them to be accepted by the regulators of medicines and chemicals
What we're doing to phase out animal experiments
We'll increase our work with everyone who can play a part, like governments and other people who decide policies and regulations, and companies who produce new medicines or chemicals. We'll carry on working with scientists themselves, including those who are developing new ways of doing science without using animals.
We'll work here in the UK, and in other countries around the world, to speed up progress with phasing-out lab animals and phasing-in non-animal alternatives. We'll also regularly update everyone about what we're doing and what has been achieved.
Receive our monthly newsletter
Sign up today to receive email newsletters and other publications informing you about our work and ways in which you can help animals.