How far would you go to help animals? Why not join us this August for our fabulous fundraising challenge? We're asking animal lovers of all ages to do #50MilesForAnimals. You could walk, run, swim, scoot or row... do it in small chunks, or all in one go!

When: 1-31 August 2022

Where: anywhere you choose!

Distance: a total of 50 miles

Activity: run, walk, swim - it's up to you

Registration fee: free

Fundraising pledge: raise what you can

We'd love you to join Team Animal and fundraise in aid of the RSPCA. And it couldn't be easier.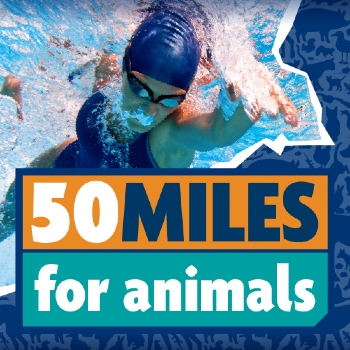 All you have to do is sign up for free and your Enthuse fundraising page will be set up for you. You can then share this with friends and family to start fundraising straight away! The funds you raise will help us rescue, rehabilitate and rehome animals.
Next, decide how you want to do your miles. Whatever your sport or fitness level, you can take part and there's no need to do all 50 in one go. Wheelchair, buggy, bike, roller skates, scooters, they're all eligible (although we draw the line at cars!). Why not mix it up?
Receive a donation during your challenge and we'll send you an RSPCA certificate and pin badge.
Raise £100 and you'll also get your own RSPCA cotton T-shirt.
Raise £200 and we'll sign you up for a year's subscription to our Animal Life magazine too! Fundraisers aged 12 or under will receive a year's Animal Action magazine subscription.
Now all you need to do is get moving!
Use these handy #50MilesForAnimals materials to tell people all about your challenge. Then watch as your miles (and donations) build up over the month, helping more animals in need.
How to measure your 50 miles
Again, you can do this any way you like! You could use the distance tracker on your smartwatch or phone, a GPS sportswatch, fitness tracker or a pedometer app. Or keep it simple and log every session you do on our mile tracker (which you can download and print out above).

We don't need to see proof of your mileage, but it's a handy way to keep track - and to share your progress with your sponsors. If you use the fitness platform Strava, you can even link that to your fundraising page for live updates.
Don't forget to share your progress on social media, using the hashtag #50MilesForAnimals. You might inspire someone else to take part.