Our survey shows that pet owners are finding it hard to do the right thing for their pets. In large part, this is because of the high cost of living. It's also because sometimes what we think of as kind, is not.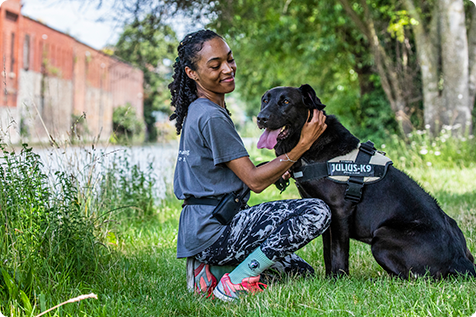 The high cost of living is impacting animals
People say they're worried and struggling to look after their pets in the way they want to. That's no surprise given that the cost of looking after our pets has risen faster than inflation, which is now
around 8%
.
In April 2023, a can of dog food cost on average £0.79; it now costs £1.05 - a
whopping 32% increase
. Last year
dog treats
cost an average of £1.65. Today, the same treat has risen by 17% to an average of £1.93.
These increases are felt by the public day in and day out:
81% say it's more expensive to look after their pets (in 2022 it was 68%).
One-third (34%) of those say it's 'much more' expensive (a significant increase from 16% in 2022).
23% of pet owners are worried about feeding their pets (a significant increase from 19% in 2022).
30% of pet owners are worried about being able to care for their pets properly
Just under 4 in 10 (38%) pet owners have changed their behaviour because of financial pressures. Of those, about one-quarter believe their animals have suffered as a result.
Heartbreakingly, just under 1% of pet owners have stated they made the decision to put their pet to sleep due to financial pressure. While that is a small figure, this has been the terrible reality for some pet owners.
Gen Z pet owners are struggling the most
Gen Z (born between mid-1990s and 2010) pet owners seem to be under the greatest pressure.

73% of 18–24 year olds say their pet is registered with a vet, compared to 90% of those aged over 55.

A majority (53%) of young pet owners (aged 18–24) have had to change their behaviour due to financial pressure compared to just over one-quarter (28%) of pet owners aged over 55.

The most common change was buying less or cheaper pet food. A sizeable minority have stopped taking out pet insurance (6%), are not giving pets necessary health treatments (5%), and have stopped taking their pet to the vet (4%).

We are deeply worried that young pet owners could find themselves only one unexpected bill away from needing to give up their pets.
These financial pressures are apparent in other areas too, such as trying to find cheaper ways to look after our pets.

It's becoming more common to Google 'Can I give my dog paracetamol?' (you shouldn't, unless told to by your vet). In April 2023 there were approximately 45,000 searches for this – a 13% increase on April 2022.

We're worried that this is becoming a substitute for vet care.
The survey also asked whether pet owners have ever, even if only briefly, regretted owning a pet. As well as the financial pressure, there is also a sense that not everyone fully understands the commitment needed when owning a pet.

One in eight pet owners (13%) say they have regretted owning a pet at some time. The key reasons given include behavioural issues (28%), cost (25%), circumstances changing (18%), and not realising how much time is needed (15%).

This is also reflected in the RSPCA's website traffic. 'Giving up a pet' is currently the ninth most visited page on the RSPCA website. In March to May 2023, there were 40,000 clicks from Google searches alone. And in the first five months of 2023, the page saw a 72% increase in visits over the same period in 2022.
Financial pressures linked to rising abandonment and neglect
The RSPCA is seeing abandonment figures continue to rise. The first four months of 2023 saw an 11% rise on the same period in 2022 and the highest rate of abandoned animals since 2019.

Sadly, the RSPCA also saw incidents of neglect rise by 10% between 2021 and 2022. This trend seems set to continue. In the first four months of 2023, incidents of neglect rose a further 7% compared to the same period in 2022 and 40% compared to 2021.

The cost of living remains one of the greatest threats to animal welfare. It is a barrier that stops people looking after their pets the way they would like to.
There is a tension between what we think and what we do
Ending harmful dog breeding practices is considered the top issue related to animal welfare, with almost half (46%) of people saying it's important. A large majority (84%) consider it unacceptable to breed animals with genetic health problems. But internet searches show a different picture.

Google search data shows that on average there are 18,000 searches for 'French bulldog for sale' every month and 22,000 searches for 'French bulldog puppies' per month. With the exception of Labrador puppies, these search volumes are higher than those for other breeds. As a breed, French bulldogs can suffer from terrible breathing issues. Many of the dogs cannot live normal lives due to irresponsible selective breeding.
Animals as entertainment
The majority (59%) of people find it unacceptable to dress animals in clothes for fashion or fun rather than warmth. This isn't reflected in people's internet search habits, however.

The monthly average number of Google searches for 'dog costumes' is 27,000. But there are spikes around Halloween and Christmas. In October there are an average of 110,000 additional searches for 'Halloween dog costumes'. In November and December, there are an extra 50,000 searches for 'dog Christmas costume'.
Meanwhile, pictures of animals in fancy dress costumes flood our social media feeds for us to 'like'.

Using animals for entertainment in shows such as 'I'm A Celebrity, Get Me Out of Here!' is also considered unacceptable to a majority (55%) of people, yet 'I'm a Celebrity' is watched by millions.

Dressing animals up in costumes and using them for entertainment can harm their welfare. It is also a symbol of the way in which animals are used as objects for our entertainment, rather than recognised as sentient beings with their own needs and feelings.
The Animal Kindness Index 2023 was produced together with Scottish SPCA and Ulster SPCA. Find out more about your local SPCA.