Deliver kindness this Christmas
Together, we can make sure that all animals will have a safe and comfortable Christmas.
How your acts of kindness helped last year...
Incredible transformation of El
El was just a tiny puppy when she was abandoned last Christmas. She was freezing, starving and almost completely bald from lack of veterinary care.  This year El has a forever home to call her own and a fully grown coat thanks to the care she received. From shivering in the woods to curled up in front of the fire - El is looking forward to a very different Christmas.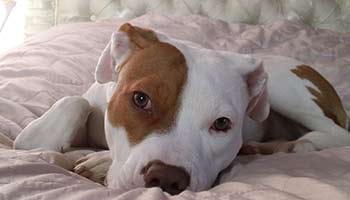 Ivor learns sign language
Staffie Ivor arrived in our care just before Christmas, still just a puppy. His previous five owners hadn't been able to cope with him and we quickly realised why. Ivor is deaf. Our staff and volunteers set about teaching him hand signals and helping him to use his other senses. Thanks to their dedication Ivor finally has a forever home.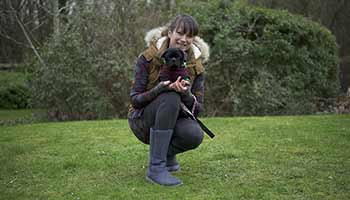 Peggy finally learns to be loved
Peggy had never really experienced love before coming into our care. Used as a breeding bitch on a puppy farm, Peggy was thrown out of a car window when she was no longer of use. Her life was transformed by the TLC and rehabilitation provided by one of our fantastic foster carers. Peggy is now doing really well in a loving new home.
Help deliver kindness to animals this Christmas