Highlighting UK's most misunderstood pet
On Rabbit Awareness Week we're highlighting the plight of the UK's third most popular (and widely misunderstood) pet - the rabbit.
Our dedicated team have helped rescue more than 11,000 rabbits over the last three years.
Many of these rabbits were rescued as a result of abandonment with more than 1,690 calls being logged by our 24-hour cruelty line relating to abandoned rabbits in 2018.
Our rabbit welfare expert Dr Jane Tyson said:
"Sadly, rabbits are still one of the most misunderstood pets, which means we rescue thousands of neglected rabbits each year. Unfortunately, rabbits are often bought as a child's first pet with the assumption that they are easy to care for but these pets have very complex needs.
"The image of a lone rabbit in a small hutch at the bottom of the garden should be consigned to the past and hopefully more and more owners are realising this. Rabbits are social animals and need to be kept in pairs, they also need to have a large sized hutch or shelter with an attached run so that they can exercise.
"It's also important that owners take their rabbits for regular vet checks and ensure that they are vaccinated against potentially fatal diseases which are easily preventable. This is especially important given the ongoing rise in cases of the killer virus RVHD2, which can be prevented by an additional vaccination."
Owners can get a free health check for their rabbit at participating vets
Our Chief Veterinary Officer, Caroline Allen, said:
"As well as providing vital protection against killer diseases, when you visit your vet for a vaccination your rabbit will be thoroughly examined for any other health issues. It's a great opportunity to have a 'health MOT'. Sadly, far too many rabbits are still dying from totally preventable diseases. Regular vaccinations and health checks are a vital part of keeping your rabbits healthy and safe."
Throughout June, rabbit owners are invited to get a free health check for their pets at participating vets. A list of vets involved can be found at Rabbit Awareness Week online.
We have plenty of rabbits in our centres and branches looking for their forever homes. If you're currently considering adopting two rabbits, or one bunny for your existing rabbit, please visit our Find a Pet page and see if you can find your perfect match.
Rabbits looking for their forever home
Mabel and Rose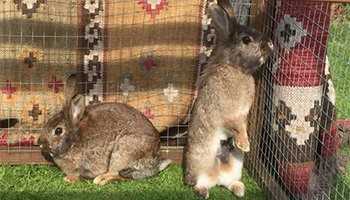 These two sister rabbits have been in our care for a year - and not one person has shown an interest in them yet.
The friendly pair were handed over after their Lionhead mother rabbit bred with a wild rabbit which left the owners struggling to cope with 10 bunnies.
Our Macclesfield, South East Cheshire and Buxton branch took the bunnies on last May and they're currently in foster care but in all that time they have had not one enquiry about them!
Carmen Cole, branch co-ordinator, said:
"They wouldn't be suitable for children sadly due to their fear issues - most rabbits do not like being picked up and handled at the best of times - but these girls had not been handled until they came into our care so it will take a responsible and knowledgeable adult to look after them."
Mabel and Rose have been health checked, micro-chipped, neutered and vaccinated. For more information about the pair and to find out how you can adopt them you can visit their pet profile.
Bumpy and Elsa
Bumpy and Elsa came into the care of our Suffolk and Ipswich branch separately, but have since been introduced and are so compatible they will need to find a home together!
They're a very sweet pair, although Bumpy can still be very nervous and so will benefit from a home that can continue socialising him.
Elsa is a lot more confident and enjoys having a little stroke every now and again. They've been patiently waiting for a home for a long time, for more information please visit their pet profiles.