Compassionate Class competition winners announced!
06.06.19
The 2018-2019 Compassionate Class year is coming to a close and to date we've had almost 750 downloads of the compassionate activities.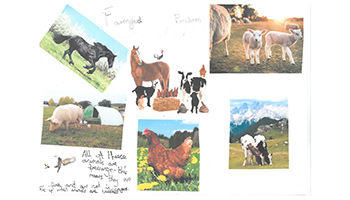 We know from feedback that often more than one class in a school will use the activities so we're hoping that this year that means we'll have reached over 30,000 with our key message of compassion to animals.
Classes from all around England and Wales chose to learn about pets, wild animals or farm animals. They were tasked with showing their knowledge of animal welfare in creative and imaginative ways as part of the competition to become the Most Compassionate Class 2019!
We had some wonderful competition entries from schools and many showed a clear understanding of the needs of animals and what actions should be taken to protect them. The judging panel was so impressed by the entries, that as well as shortlisting six schools, they gave certificates to schools that were highly commended for their skills in poetry, animation, crafting and acting.
The winning entry
One school stood out as the clear winner and we're proud to announce that Ysgol Gymraeg Coed y Gof School in Cardiff won our Most Compassionate Class 2019! We were blown away by their animation which focused on the advocacy task of 'When I rule the world'.
The animation follows a boy and a girl on their journey into different habitats and comes up with a list of rules to follow which are:
To not hurt animals.
To look after the animals you keep.
No rubbish anywhere and no pollution at all.
Keep animal homes safe.
Does Compassionate Class work in schools?
We asked Mrs Norman, teacher of the Compassionate Class winners, how the project went.
Do you think it's changed some of the children's perception of animals?
Definitely! Baby animals always evoke a very positive reaction from the children, but it surprised us how quickly they developed those generous feelings towards animals that they weren't as familiar with.
What impact do they hope it will have on the pupils going forward?
We hope that this project will have given the children lifelong respect and love for animals. That it will benefit them and enrich their lives and that they'll become ambassadors for animals within their communities.
What does it mean to win the award?
We were thrilled to hear that we had won. We didn't really enter the competition with a view to winning but to be able to complete the project with the children so that they'd have an end product of which they would be really proud. The children were so excited when they found out; we hope that they'll always remember that they're national winners.
Congratulations to all who took part
The winners and five runner-up schools will visit our animal centres throughout July. Well done to everyone who took part!
Why not take a look at the entries from the shortlisted schools?
Want to find out more about Compassionate Class?
Take a look at the Compassionate Class programme, which is apart of our Generation Kind projects.