Calls for longer prison sentences for animal abusers
24.06.19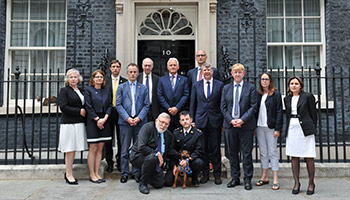 Along with the League Against Cruel Sports, we've called on the Government to stand by its repeated promise to increase prison sentences for animal cruelty.
Joining us, and representatives from nine other leading animal welfare organisations on the steps of Number 10 Downing Street, was Jet ¿ a Lakeland Terrier shot in the head four times and left for dead by the ex-boyfriend of his previous owner.
We were there today to meet the prime minister's environment adviser, Lord Randall, to call for the Government to act.
Six months for animal cruelty is not enough
Andrew Knott, chief executive of the League Against Cruel Sports, said:
"The maximum prison sentence for animal cruelty is six months, which is far too low. To build the kinder society we all wish to see, we must introduce proper deterrents to those intent on abusing animals ¿ tougher custodial sentences of up to five years will better reflect the gravity of their crimes.
"At a time when animal welfare is higher than ever on the public and political agenda, it's vital that this opportunity is not lost. We urge the Government to legislate for this change at the earliest opportunity."
Almost two years since increased prison sentence plans first announced
Environment Secretary Michael Gove first announced the Government¿s intention to increase maximum prison sentences from six months to five years in September 2017. Following a national campaign by Battersea Dogs and Cats Home, he visited the charity in south London in December 2017 to announce plans for a new draft bill on the issue.
Despite repeated promises and assurances by the Government to amend the Animal Welfare Act, and the policy being announced at two consecutive Conservative Party conferences, the change has yet to be made.
Chris Sherwood, our chief executive, said:
"It's been more than 18 months since the Government pledged to increase penalties for the most serious cases of animal cruelty ¿ and we're still waiting for them to fulfil their promise.
"During that time, animals have been shot, stabbed, set on fire, drowned, beaten and left to starve to death. A maximum sentence of six months in prison for beating a dog to death with a shovel or throwing a cat off the roof of a building simply isn't enough. The courts need to have longer sentences at their disposal for the worst animal abusers - and they need these powers as soon as possible."
The 11 organisations at the meeting in 10 Downing Street were represented by:
Claire Horton, chief executive, Battersea Dogs and Cats Home
Steve Goody, deputy CEO and COO, Blue Cross
James Yeates, chief executive, Cats Protection
Dr Nick Palmer, head of UK, Compassion in World Farming
Paula Boyden, veterinary and campaigns director, Dogs Trust
Claire Bass, executive director, Humane Society International UK
David Cowdrey, head of policy and campaigns, International Fund for Animal Welfare
Andrew Knott, chief executive, League Against Cruel Sports
Chris Sherwood, chief executive, RSPCA
Paula Sparks, chair, UK Centre for Animal Law
Roly Owers, chief executive, World Horse Welfare.
The pain Terrier Jet has suffered compared to the sentence of the offender
Joining them at Downing Street was two-year-old Jet and our Inspector Graham Hammond. Jet was found dumped in scrubland in Southampton, Hampshire, last July with horrendous injuries.
He'd been shot in the head four times with an air rifle and spent five days collapsed and alone before being found and rushed to a vet. His wounds were covered in thousands of fly eggs (known as fly-strike) and he needed £5,000 worth of treatment to nurse him back to health.
Miraculously, Jet survived but his hearing and vision were both affected. We launched an investigation and traced the man responsible for the brutal injuries. Earlier this month, the 37-year-old was found guilty at trial of causing unnecessary suffering to Jet (an offence under the Animal Welfare Act 2006) and sentenced to 200 hours of community service, ordered to pay more than £1,600 in costs and disqualified from keeping animals for 10 years.