The Dog Rescuers
The Dog Rescuers is presented by Alan Davies who follows the work of our dedicated and tireless inspectors, as they investigate reports of abuse and neglect towards dogs across England and Wales. It features dramatic rescues, inspirational rehabilitation and heart-warming rehoming stories, plus new ways to bond with your four-legged friend and the life of a rescue pup from birth all the way to adulthood.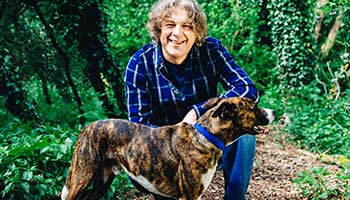 You can also catch up on The Dog Rescuers on Channel 5 on demand.
Get your copy of The Dog Rescuers book
You can read more about the real-life rescues featured in the show in The Dog Rescuers book, which features a foreword from Inspector Anthony Joynes.
This collection of heartbreaking but ultimately heartwarming tales follows the likes of puppy Clover, who suffered damage to her face and lips, and Flint, the lurcher who'd been used for badger baiting and lost most of his tail. When all seems lost, our dog rescuers are on hand, providing vital support to get Clover, Flint and friends the help they need and into forever families so they don't just survive they thrive.
The softback edition of the book is available now in all good book retailers.
Get your copy of The Dog Rescuers
Thank you for supporting us and enabling us to help more animals in need.
Could you give a loving home to a rescued dog?
If, like us, you've fallen for the wonderful dogs seen on The Dog Rescuers, you may find them waiting for their new home in one of our centres. We've so many dogs just like them looking to be apart of a new family, why don't you start your search with us today?