How one crafty cat is raising vital funds for our cattery
Rescue cat Earl's owner is passionate about supporting the centre that helped care for Earl and other cats in need.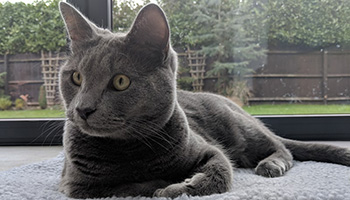 Earl is a two-year-old rescue cat and Instagram supawstar, adopted by talented cattery volunteer Emily, who has since become inspired to hand make unique cat toys. Emily sells her 'catch of the day' and other creations to friends online.
Generously, Emily donates 50p of each sale to our Stapeley Grange cattery, where she has volunteered for years and where she found her muse, Earl!
Thank you Emily, for making a difference to many animals like Earl! Now let's talk about Earl and your work...
When did you and Earl meet?
Earl is from the RSPCA Stapeley Grange cattery where both my mum and I volunteer. Unfortunately, we had just lost our family dog and thought that the house was very quiet. At the time, Earl was being fostered by one of the staff members, Joyce, and she thought we would make the perfect family for Earl!
We will now have had Earl two years this September. It's gone so fast and we still think of him as a young kitten! We don't know Earl's exact birthday but we have worked it out to be in June sometime.
Where did you get the idea for cat toys?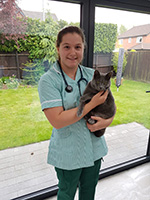 I started by making a small felt toy for Earl. My family (Earl included!) thought it was great and suggested that I should start making more to sell. I have a whole selection of different products now!
My ideas all come from Earl, and knowing what type of toys he loves to play with. At the moment, there isn't as large a market for cat toys compared to dog toys and people don't always understand how important play is for cats.
From each sale, money will go to the RSPCA Stapeley Grange Cattery. Stapeley looks after and rehomes hundreds of cats a year just like Earl. The money helps buy food, treats, beds, scratch posts and toys for the cats in their care.
Which toy is Earl's favourite?
Earl loves the fish I make (especially because they contain catnip!). He goes mad for catnip and they're the perfect size to bat around the floor. When I'm not looking, he sometimes steals toys that I've just made knowing that he'll get away with keeping them and I'll have to make another!
You can shop Emily's handmade toys at 'Earl's Charity Mice' on Etsy.
What would you say to anyone thinking of getting a new pet?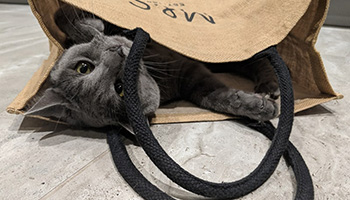 I would say to properly research what pet would be best for you. Older cats often get overlooked but they're often exactly what people need. Also, I would say how important it is to consider if you can offer the environment that pets needs.
All animals need enrichment - Earl especially loves his toys, scratch post and his food puzzles! As cats are natural hunters, they have a natural instinct to hunt and catch prey and so games that stimulate them mentally and physically is hugely important.
What inspired you to fundraise for Stapeley?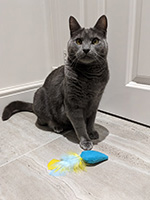 I have volunteered at Stapeley for years now and my mum also started in the past two years. I love being able to spend time with the cats and seeing the difference in the cats, from when they first come in, to when they go off to their new home.
Stapeley also really helped me with my university application for Harper Adams, where I'm now going into my 3rd year of studying Veterinary Nursing. Stapeley do great work for the cats in their care and the staff and volunteers do an amazing job. I thought that if I could raise some money to buy toys, blankets, beds and treats for the cats then I would be helping.
You can follow Earl's adventures and his new favourite toys on Instagram at @RSPCA.Earl.
Got a fun hobby? There are hundreds of ways you can fundraise
If Emily and Earl's story has inspired you to fundraise for animals, there are so many ways you can get involved. From selling handmade bunting, cards, lemonade, jewellery or even candles to baking for a bake sale, the options are endless! Whether you're arty and crafty, a keen baker, or a fitness fanatic there's a fun way you can get involved today.