Be #DogKind: don't leave your dog behind this summer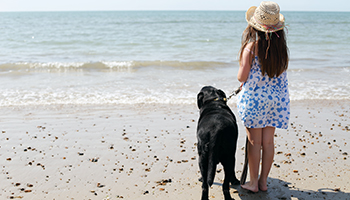 As the days get warmer, we're all likely to be out and about a bit more than usual. This may mean that your dog is usually left for longer periods of time than normal. This could increase their stress levels by being left alone, as well as resulting in feelings of loneliness, boredom or anxiety.
That's why this summer we're asking you to be #DogKind and take your dog with you (when appropriate!), to save your dog being left at home alone. To help make this the best experience for you and for your furry friend, we've put together our five top tips for taking your dog out and about with you this summer.
Plan ahead
When you're planning a day out with your pooch, try to call ahead to the venues you intend on visiting to make sure that they're dog-friendly. Whether it be a National Trust property, a walk to a country pub or a coffee in your new local cafe, it's important to make sure that your pooch will be welcomed and can join you.
Dogs die in hot cars, so they must never be left alone in a vehicle. Temperatures can soar very quickly and cause heat stroke or even death. That's why it's crucial to know how dog-friendly places are before driving to your destination as the car isn't an option for your dog to be left in if it turns out that they can't come in with you.
Hydration is key!
When us humans head out for a walk on a warm day, we're likely to pack water to keep us hydrated en route. Sometimes we may forget to do this for our canine companions, or simply not take enough. Specialist bottles can be purchased that help you carry and dispense the water easily for your dog, but you can also simply pack an extra bottle of water for them and bring along a small bowl they can drink from. If you're out for longer than your dog's normal walk time or out on a particularly warm day, you should always offer regular water breaks to your dog to ensure that they don't dehydrate.
Remember, many dogs have a warm, furry coat and- unlike us - they can't remove layers when they get toasty. Also, our furry friends can't sweat to cool down like we can and so finding shade and avoiding the warmest times of day really are key to keeping your dog healthy and happy!
Throw some shade their way
It's important that your dog's easily able to get out of the sun while they're out and about, especially if you're spending a long afternoon outside - perhaps at the beach or at the park. A great way of providing this is to take an umbrella with you to put up for the day to offer some shade on the move - you may need to invest in a larger one if you've got a big dog! Failing that, be sure to seek shade by sitting near trees or buildings so that your dog can access cooler areas throughout the day.
Only mad dogs and Englishmen...
It's crucial that when taking your dog out during the summer months that you consider the time of day and avoid going out during the midday sun or heat of the day. This goes for walking your dog as well as during days out. You should also be aware of the signs of heatstroke and what you can do if you suspect that your dog is suffering so that you can act fast.
Pay attention to your pooch
When we say 'pay attention' we don't mean stroking and fussing over your dog, although of course, this is always nice too! What we mean is paying attention to your dog's body language and behaviour and making sure that your dog is happy and comfortable in the situation you take them into. For example, a pub may be dog-friendly, but if it's very busy or there's lots of noise, your dog may feel scared and worried, in which case you should remove them from the situation as soon as possible.