Three types of life-changing veterinary care
From vets and nurses to care assistants and surgeons, everyone who works at our animal hospitals is dedicated to making sure that animals in need get the best possible care - whether that's life-saving surgery or a simple vaccination.
Emergency care
When animals' lives are at risk, there's not a moment to spare. Staff at our RSPCA animal hospitals have to be ready to act fast to save the lives of injured or abandoned animals, who are often brought in with very little warning.
Basic care
Vets at our RSPCA animal hospitals also carry out basic procedures such as neutering, microchipping and vaccinations. These can help make sure every animal we rescue has the healthiest and happiest life possible.
Low-cost care
For pet owners in need, we also offer low-cost veterinary care. We can't help everyone though, so we try to provide for pet owners who need our help the most.
Got a spare few hours a week?
Why not volunteer at your local RSPCA animal hospital or centre to help transform animals' lives?
Our animal hospitals: around the clock
Take a look at the numbers behind the success stories.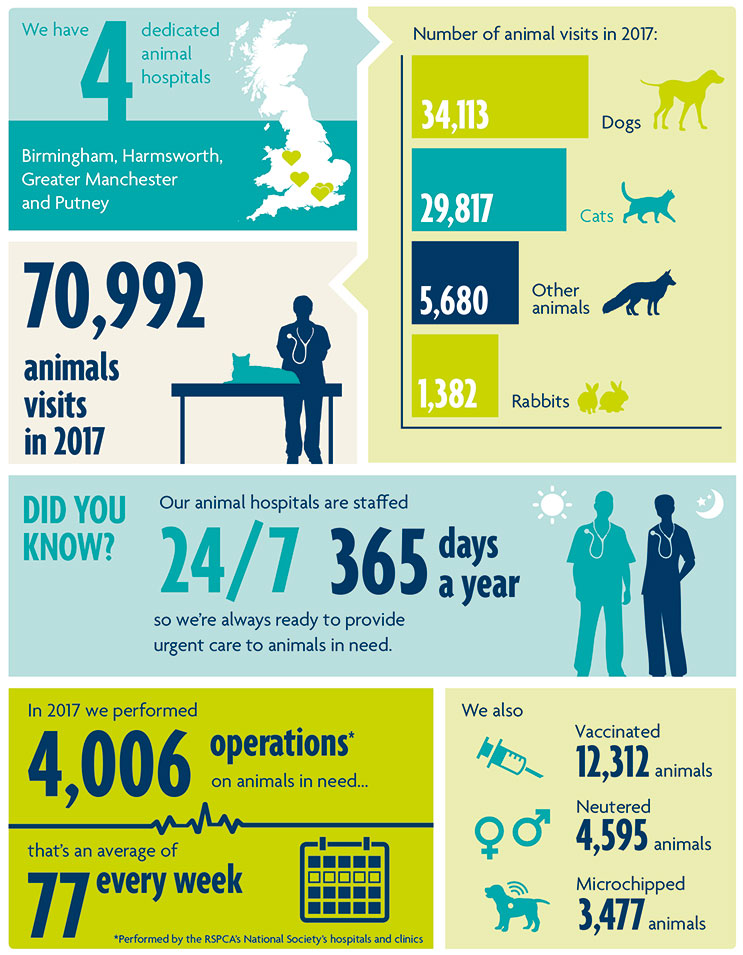 Giving £10 a month could help provide life-saving emergency care to animals in need.