Animal emergencies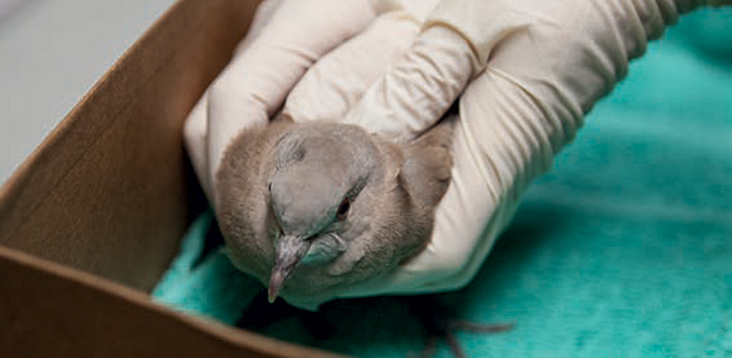 What should you do if you find an injured animal?
Finding an injured animal can be distressing - so it's important to know what steps you need to take.
Keep an eye on the animal to see how badly injured it is.
If the animal is larger than a dog or you think it could be dangerous, don't try to touch it or move it. Instead, call us on: 0300 1234 999.
If it's safe to handle the animal then, using gloves, place it in a secure cardboard box with ventilation holes, lined with towel or newspaper. Take it to the nearest vet or wildlife rehabilitator (make sure you call ahead first).
'When you find an injured animal, it's important to act quickly and calmly.
"If you follow the right advice, you could even help save their life.'
Michelle, customer experience advisor
Rescue dog lands on his paws
When eleven-year-old Alfie came into our care he had a large growth on his tail. Due to concerns about it, Alfie underwent a successful surgery to have it removed carried out by vet Becky Taylor-MacAlpine. After growing increasingly fond of Alfie, Becky agreed to foster him for two weeks until a kennel became available. Fast-forward three months, however, and Alfie is still living with Becky, and her husband Dan.
Family find frog in their suitcase!
A family had quite a surprise when they were unpacking after returning home from holiday - when a tree frog leapt out of their swimming shorts as they opened the suitcase! The family think the little frog must have got caught up in the swimming trunks when they were hanging out to dry. After managing to confine the tiny frog they called us. We then took it to a specialist vet who offered him a forever home.
Teddy, woke owner from coma
In December 2016, RSPCA rescue dog Teddy's owner, Andy was admitted to intensive care and was put into a medically induced coma by the doctors. His wife Estelle got special permission from hospital staff to allow her to bring Andy's beloved pet in for a visit and she believes hearing Teddy's bark encouraged her husband to wake up earlier than expected.
Get more advice about everything from looking out for wildlife to pet care