As British MEPs meet to discuss animal welfare for the last time, which route will the UK take on animal standards?
A guest blog by David Bowles, our Head of Public Affairs.
This week, the EU Bill is expected to complete the final stages in the House of Lords. The bill sets out the terms on which we leave the European Union on 31 January.
This may feel like it's been a long time coming but it's only the beginning of the really important task - negotiating what our relationship with Europe will be in the future.
This free trade agreement will be particularly unique as it's the first one starting from a level playing field, with both sides sharing broadly the same welfare standards. It's also planned to be one of the quickest agreements ever negotiated as the withdrawal bill sets the exit date, by which time a trade deal must be struck (as of 31 December, this year).
The UK finds itself at a crossroads on animal welfare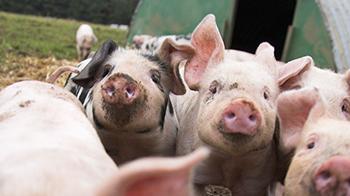 The last election was the first one where animal welfare was discussed in any detail. The Government now has to deliver ten promises from their manifesto to improve animal welfare once we leave the EU.
However, look at the Withdrawal Agreement and you'll find no mention of animal welfare at all, let alone any commitment to not let standards fall. So the direction that's taken will depend on the whim of the minister rather than the rule of law...
Will they go towards the American deregulated model, allowing imports of food produced under practices such as hormones injected into beef, chicken washed in chlorine or pigs kept in sow stalls - or will they keep and improve our standards and retain parity with the EU, our biggest market and partner for food?
The January meeting will be the last one for UK members after 37 years
This week we'll be setting out our red lines at a meeting of the European Parliament's Intergroup on Animal Welfare. This important group, with 100 members from 26 countries meets monthly to discuss and agree on ways to improve animal welfare. The January meeting will be the last one for UK members after 37 years. It will be one of many last things for British members.
During those 37 years, the EU has adopted 44 different pieces of animal welfare law, from banning the import of dog and cat fur to regulating how we test and use animals in laboratories. Whilst all are now part of UK legislation, many contain standards well above other countries with which the UK hope to have trade agreements, including Australia and the USA.
We'll be recommending five important principles to MEPs
Even if the standards remain in UK law, it's vital that the UK doesn't agree to allow products produced at lower standards in any trade deal they agree. Whether it's on food, products tested on animals or how we catch our fish. The result would be undercutting our own producers or industry, and a race to the bottom for animal welfare. We'll be recommending five important principles to MEPs:
Firstly, given the importance of the EU and UK markets to exporters, tariff-free trade should continue, especially on food.
Secondly, whilst divergence can occur on standards, this should be based on the principle of non-regression and preferably on dynamic alignment. In other words, both sides should agree not to lower their standards and if one side improves theirs, the other should reciprocate.
Thirdly, there needs to be a system of mutual recognition of regulatory processes. The UK will leave European standard-setting bodies such as the Chemical Agency. Without agreement on how those standards are set, we could see a rise in animal testing in the UK as animals are tested twice, once for the UK market and again for the European market.
There should be a common veterinary agreement between the EU and the UK. This would mitigate any threats to good animal welfare, arising from movements, delays and checks and would allow for increased targeted inspection to prevent illegal movements. Such an agreement already exists between the EU and Switzerland and within Ireland. Given the importance of cross-border movement of farm animals between the North and the Republic of Ireland (particularly for sheep and pigs) it's important to keep this Irish regulatory convergence and avoid unnecessary checks and queues. Widening that to Great Britain would give them the freedom to still pursue their own trade policy.
We need to have a transparent process for resolving any trade issues that arise.
These suggestions are all possible. We know there is public support - polls have shown that 67% of the public don't want products to be imported at standards illegal in the UK, while 81% said they want our animal standards to be maintained or improved. As the UK MEPs meet to discuss animal welfare for the last time before packing their bags, we hope they take this message back to London.