Bat man helps out Vicar!
Caroline, a Vicar from St Andrew's Church in Swaledale, tells her unusual story about the bats she discovered living in her church.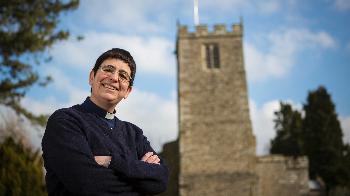 Realising that she had bats nesting in her church, Caroline contacted a local bat conservation society, The North Yorkshire Bat Group, for advice. Once the bat man had taken a look, Caroline soon learnt that she had a number of different bat species living above her, and even a maternity bat roost! Since learning more about bats and their way of life, Caroline's view of them has changed. In Caroline's words:
Rather than seeing bats as a problem, my perception has changed because I've learnt what fascinating creatures they are.
Caroline shares her advice for others in a similar situation:
If I met another vicar with bats in their church I would encourage them to take a positive view of the bats and to use them as a feature.
Caroline herself has made her bats a feature and added two information boards to her church as well as 'batty' crafts for children!
We rehabilitate around 250 bats every year.
Bat in a boombox rescued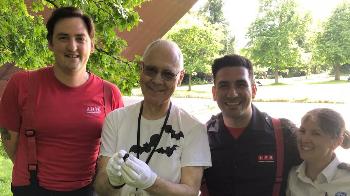 Pipistrelle are found throughout Britain in a wide range of habitats, everywhere from upland areas to large developed cities...
However, when a pet dog discovered a tiny Pipistrelle bat trapped in an old speaker in a London park, the owner knew he needed help. It took a dog walker, a bat specialist, our officer and the local fire service to rescue him.
The dog walker was alerted when his curious dog was sniffing around the old speaker. Realising the little animal was trapped, the man called us for help. Inspector Rebecca Phillips comments:
This was my first bat rescue so it was super exciting! When I first saw the little brown creature, I was amazed he had been spotted at all, he was so small and hard to see.

Boris - as we called him - had somehow got himself trapped between two sheets of mesh and was hanging upside-down from it.
With the help of a bat specialist and the fire services, we were able to free the trapped bat, and bring him in for a health check; we're delighted that he's now been released back to the wild.
Did you know?
We've cared for more than 15 bat species, including some less common ones such as barbastelle, grey long-eared, lesser horseshoe and serotine.