Social media cockfighting and hare coursing
This case came to light after a number of reports were received by us and the police about disturbing images, videos and comments relating to hare coursing and cockfighting being posted on Facebook. Systematic postings revealed the significant scale of the interest and illegal activity of three teenagers.
Boasting and sick pleasure
Our Special Operations Unit (SOU) began an investigation, capturing images and videos from the teenagers' Facebook profiles.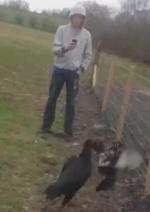 There were six videos depicting cockfighting. One offender had posted a photo on his Facebook page with the comment 'coursing today', with photographs showing two of the defendants with a dog and a dead hare.
Another video had a brindle dog with a squealing hare in his mouth. The youths were praising and encouraging the dog, showing him off to other people there. Other comments posted showed them boasting and the pleasure they got from the killings. The location of many of the offences could also be identified.
The imagery was conclusive enough to enable police to apply for warrants to enter and search the premises occupied by the teenagers, accompanied by members of our SOU.
Suffering cockerels
A number of cockerels were found in cages in a corrugated iron shed. It was clear the birds were being kept with an intention to 'fight' them. Four cockerels, which appeared to be of a 'fighting' type, were seized. All had their spurs trimmed and were dubbed (comb and wattles removed).
One cockerel was tethered to a heavy object by a cord around his leg, near to numerous hazards such as wire, nails and bits of metal building materials. He had a leg wound and a parasite infection. Another had an infection between his toes, and a third was so thirsty he drank water continuously for 15 minutes. The examining vet confirmed two of the birds were also suffering from upper respiratory tract disease.
Paraphernalia associated with cock fighting was also recovered: weighing scales, wooden cockerel travel cases, animal medication which including some bottles of liquid labelled 'for veterinary use only', and needles.
The youths were all aged 16 or under at the time of the offences and it's believed that their parents were fully aware of what they were doing.
The teenagers had a disturbing attitude
The attitude the teenagers displayed was of real concern. Not one of them showed remorse in fact, one offender appeared to enjoy watching the videos when being interviewed and was often seen smirking. None of the three was able to provide a credible explanation for the material and all three gave mainly 'no comment' interviews.
The risk of reoffending for all suspects was extremely high and the severe nature of their offending - among the most serious offences contrary to the Animal Welfare Act 2006 - could be expected to continue, therefore a prosecution was necessary both as a deterrent and to protect animals in the future.
The teenagers appeared before Carlisle Youth Court and pleaded guilty to 16 offences. The youngest defendant, who had pleaded not guilty, was also convicted of two offences of causing animals to fight. The judge commented that one defendant's attitude to keeping animals was 'disgusting', and he appeared to take pleasure in dogs killing hares.
Facebook comments posted by offenders
'My bird slaughtering xx'
'I had a fight yesterday with xx¿he got blinded and nocked out so I killed it¿ it was some bird non stop hitting to the hed and neck'
'he best dog pup I've had for a longtime he jump eny thing for a hair¿This dog I've had for a longtime he jump eny thing for a hare¿This dog I've got very nice to watch behind a hare I use for every thing ¿ He only een on 6 or 7 hares and killed 5¿'
'my chicks am breeding will smash it'
'I might go tomorrow night get this pup on a hare'
'Yeah she fast enough lol she should be tho am gonna kill all these summer hares round here'
'Good its nice to see a good dog on a good hare'
'good fight'
Summary
Offences: Animal Welfare Act 2006 s4 and s8; Hunting Act 2004 s1
Pleas:
Defendants 1 and 3: guilty to all offences
Defendant 2: Not guilty to fighting offences, guilty to other offences
Convictions: 18
Sentences:
Defendant 1: disqualified from keeping all animals for three years, £750 costs
Defendant 2: disqualified from keeping poultry for two years, youth rehabilitation order with 20-day activity requirement, £750 costs
Defendant 3: £100 fine, £500 costs