Hidden footage shows man punching and kicking livestock
Covert filming by a third party resulted in disturbing footage being passed to us of a stockman abusing cows and their calves.
Shocking footage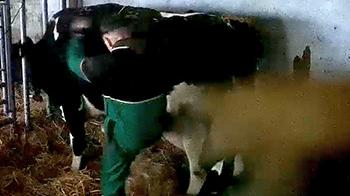 The hidden camera, set up in an open barn, captured cows being kicked and punched and their calves being manhandled, kicked, thrown to the ground and stamped on. The animals were vulnerable newly born calves, as well as cows that had just given birth.
An RSPCA Chief Inspector showed the footage to the farm owner, who identified the man as a part-time employee. The farmer - proud of his high welfare standards - was perplexed as to why the offender had done these things, as he had seemed to be an up-and-coming young farmer with good prospects. The offender was dismissed from his employment.In one clip, the stockman was seen giving a heavy kick to one of the new mothers, hitting her on the side of her body, shouting and swearing, and slamming a gate into her.
He then kicked her full in the face and threw her newborn calf away from her. In another clip, he was seen to kick or stamp on a calf seven times in a row. He threw a calf twice, slammed another to the ground and kicked yet another in the head. The footage was shocking, and conclusive evidence of repeated, deliberate and unprovoked ill treatment.
No excuse for brutality
When interviewed, the offender said he felt disgusted with himself after seeing the clips. He confirmed that his agricultural college had taught the five freedoms and the Defra Welfare Codes in relation to handling care and treatment of livestock. He also understood that the stockmanship section states that 'Cattle should be encouraged to move gently and you should avoid using too much noise, excitement or force and should not put pressure on or strike at any sensitive part of the body (such as the head or udder)'.
When asked why he kicked the cow twice he said 'It was nothing to do with the cows', adding that it was a one-off build-up of temper, to do with him not getting much sleep as he was upset with personal circumstances. He understood that none of those factors excused his brutality towards the animals in his care.
When sentenced, the defendant was told
Your behaviour was absolutely unacceptable. The offence was deliberate and sustained. Kicking, stamping, hitting - including to the head - throwing and shouting carry a high level of suffering.
Farm passes inspections
An RSPCA Inspector revisited the farm, accompanied by a vet from the government's Animal and Plant Health Agency. This was to check all the stock on the farm and follow up concerns for a particular cow; all the animals were found to be healthy.
Since the incident, the premises have been inspected by Defra, the Red Tractor scheme and their commercial partners, who all regard this as a one-off incident. The farm has also held a practical training workshop for all staff, carried out by vets, which covered all aspects of handling cows and calves.
Summary
Offences: Animal Welfare Act 2006 s4
Pleas: Guilty
Convictions: Two
Sentence: Disqualified from keeping any animal farmed for commercial purposes for two years; 12 weeks' imprisonment suspended for one year; 30-day rehabilitation activity requirement; 150 hours' unpaid work; £300 costs