Former Crufts winner keeping animals in horrific conditions
Thirty adult dogs, six puppies, two cats and two parrots were rescued from the horrific conditions in which a former Crufts winner was keeping them.
A dark outhouse inches deep in faeces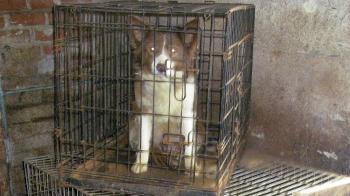 When two RSPCA Inspectors arrived at the property, they detected an overpowering smell coming from an adjoining outhouse. Through the broken windowpane, our inspectors glimpsed, through the gloom, several frightened, unwell-looking dogs confined in an assortment of filthy, faeces-strewn crates. They called for urgent veterinary and police assistance.
Inside conditions were indescribable, with the lack of ventilation the stench of urine and faeces was overwhelming. Ten dogs were confined in crates, some of which were stacked on top of each other, without food or access to water. They all appeared scared and depressed, and those away from the window had no natural light.
The floor of the outhouse was inches deep in compacted faeces. Conditions darkened further inside - where there were some dogs our inspectors hadn't seen at first.
One dog in particular, a brown-and-white collie-type called Billy, was very subdued and forlorn. He had a vacant look in his eyes and, despite the presence of so many people, was withdrawn and still. The vet said she'd never seen a dog so sad; his coat was filthy, his paws were soaked with urine and both of his eyes were infected.
Even more dogs found in horrendous conditions
Seven more dogs were found in a van parked outside - without food, water, bedding or protection from the extremes of hot or cold weather.
Even more dogs were found in crates inside the house, including a West Highland terrier-cross with her six newborn puppies. Many of the dogs had obvious issues including injuries, infections, lice infestations and dental problems. Two cats were found hiding inside a pen that was covered in piles of faeces.
Altogether, there were 40 animals at the premises. The owner relinquished 31, saying she no longer wanted them. All of the animals were taken into possession by the police and removed from the premises.
The dogs in the worst state of health were cocker spaniel-type Bobby, collie-cross Billy and Labrador-type Shadow. The vet put them to sleep on humane grounds. She commented she hadn't seen conditions as appalling as this, or on such a scale, in her 30 years of practice.
Dog's condition reduced the vet to tears
The district judge told the defendant:
It's clear to me that the level of suffering is at the high end... it's an aggravating feature that you are an experienced keeper and you would've known what was required.
Our Inspector said:
The animals were living in their own little prison cells - it was absolutely horrific and not something you expect to see in this day and age.
Dave added:
The whole way these dogs were being forced to live was nothing less than appalling. Billy's condition was so poor that the vet was reduced to tears.
The dogs that could be saved were rehabilitated at our Radcliffe Animal Centre and have now found loving new homes. The dogs were also reunited at a centre open day.
Summary
Offences: Animal Welfare Act 2006 s4 and s9
Pleas: Guilty
Convictions: Six
Sentence: Disqualified from keeping dogs for life and all other animals for three years; 12 weeks' imprisonment suspended for 12 months; £500 costs