Skip's story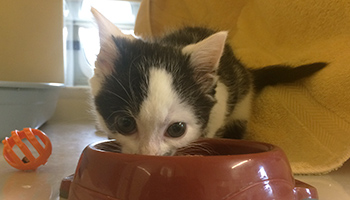 As a newborn kitten, Skip was abandoned and all alone in a cardboard box at a recycling centre. She was only discovered when she fell out of the box as it was moved around and was taken to RSPCA Putney Animal Hospital by RSPCA inspector Tom Goldsmith for urgent care.
At first Skip wouldn't eat but she soon found her appetite before being taken into foster care and hand reared by RSPCA Nurse Emma Turner. Emma's cat and dog, both RSPCA rescues, groomed and played with Skip which really helped to develop her social skills.
Thanks to the tireless work and care of our dedicated staff, Skip has been given her second chance at life and has found her forever home. But Skip is not alone. Every year we rescue more than 100,000 animals but we can only carry out this lifesaving work with the support and generosity of animal lovers like you.
Will you help make more happy moments by donating today and allow us to be there for the next animal that needs us?