Skip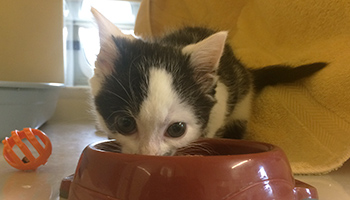 Skip was left alone in a cardboard box at a recycling centre as a newborn kitten and bought into RSPCA Putney Animal Hospital after he fell out of the box as it got moved around. After a shaky start where he wasn't taking on any food, he soon found his appetite and was placed with a foster family of animals, Tod the Pomeranian and Piggs the cat! They groom and play with him which have developed his social skills and he's now been able to enjoy his very first playtime!
This incredible story, and thousands of others like this, wouldn't be possible without our dedicated teams who work tirelessly to win animals' trust and make sure there are many more happy moments ahead. However, we can only do this because of the support and generosity of thousands of animal lovers like you.
Please donate now, so we can continue to give animals like Skip a life full of happy moments.