Thanks to your kind sponsorship of our dog kennels all over England and Wales, we can give all of our dogs the care and attention they desperately need. With your help, we can support them to love and trust again and have the bright new start they deserve.

So, please know how grateful we all are and take this moment to enjoy some of our most recent success stories below. They simply wouldn't have happened without your kindness.
Harry was one of three, 12-week-old husky puppies abandoned in a filthy crate behind bushes on a busy Kent road. These vulnerable puppies had been dumped out in the cold with no food or water. Luckily, a passer-by noticed the young dogs and took them to a local vet, who called us.

Our rescue team brought the puppies to our Leybourne Animal Centre, where they were named Harry, Ron and Hermione. Thanks to your support, our animal care assistants gave the trio a desperately needed bath. Then our vets examined the emaciated, dehydrated puppies, gave them vital fluids and ran tests.

We discovered Harry and the other puppies were carrying multiple parasites, some of which were infectious for people and other dogs. We had to quarantine them separately for a month while they were treated, wearing disposable boilersuits, masks and gloves every time we went into their kennels. It was hard work for our staff but worth it to see happy, healthy puppies at the end of their isolation.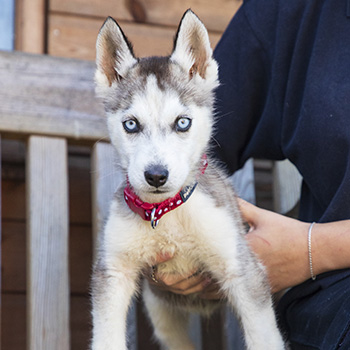 We were also worried about Harry's front legs which had become deformed due to malnutrition. Our vets made sure Harry was given the special diet he needed and gradually his legs became strong and healthy.

Your Sponsorship meant we could find Harry, Ron and Hermione happy, loving homes and give them a much brighter future.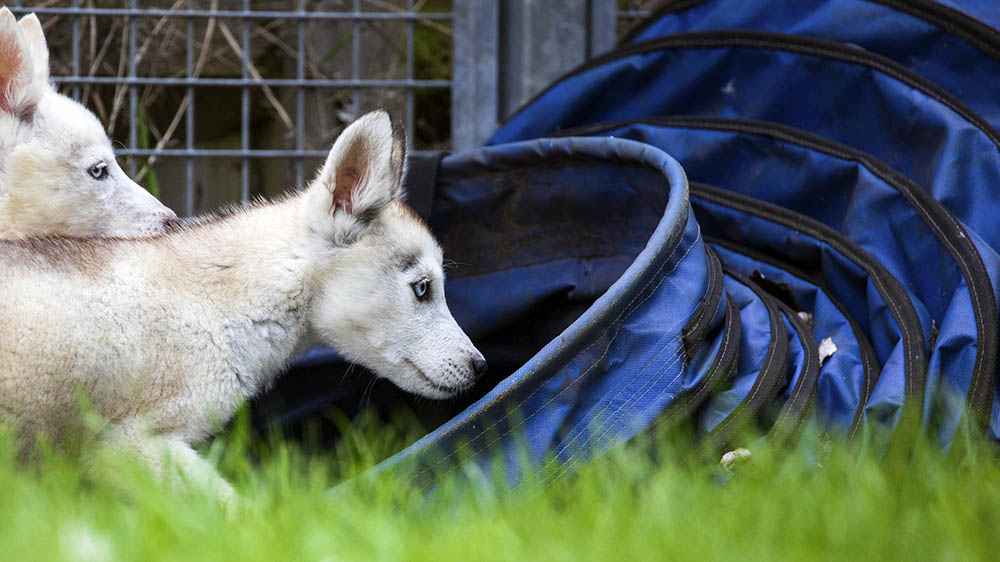 The sun is now shining brightly on Harry
Ralph was one of 25 rescued dogs whose story we shared in your summer issue. As you may remember, the dogs were in a terrible state when they arrived at our Block Fen Animal Centre, having been kept in dark sheds with very little human contact or care. Being starved of human love and attention had made Ralph terrified of people and our staff spent many months gradually winning his trust.

At first, Ralph wasn't interested in training treats until we discovered his love of cheese. Behaviour and Welfare Advisor, Paige, patiently offered him cheese to lick from her finger when she called him over. It took almost a month to persuade Ralph to put his feet on her leg and even longer to get him to wear a harness or walk on a lead without spinning around and biting it.

All the team's hard work finally paid off when, nine months after he arrived, Ralph was ready to be adopted - the last of the 25 dogs to find a new home. Now Ralph has a bright future with a loving new family and - with the help of your amazing Sponsorship - we've been able to carry on supporting him as he settles into his new home.

Your Sponsorship meant we could work closely with his new family for 10 weeks to help Ralph settle in, get used to his harness and learn how to ride happily in the car.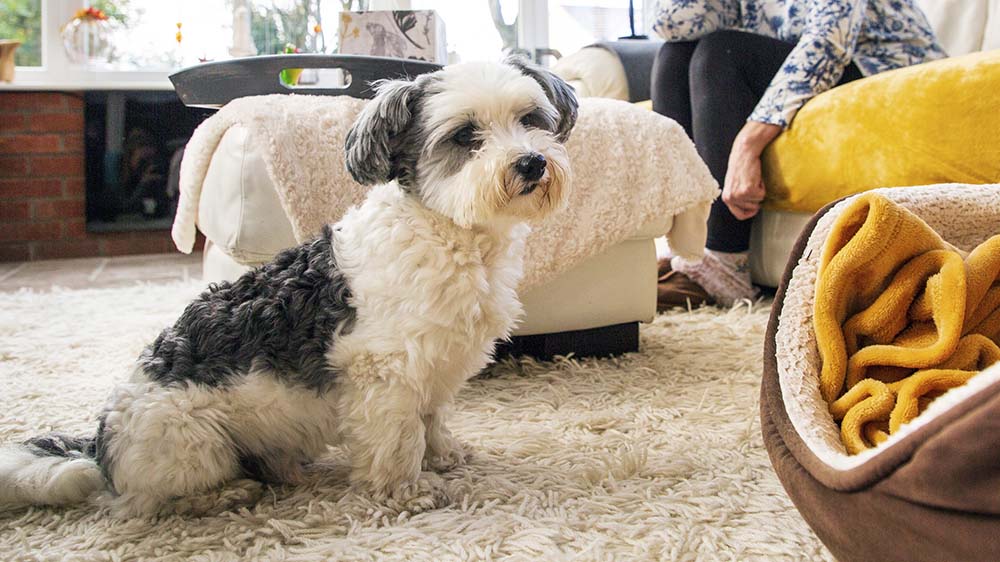 Ralph has his forever home, thanks to you
Shelby now has a spring in her step
Young Shelby was saved from a cruel puppy farm and arrived at our Newport Animal Centre with her two tiny puppies. The puppies soon found new homes, but Shelby was extremely withdrawn and nervous around people.

Shelby's experiences left her with serious eating problems, and she'd squirrel food away in her bed - a habit formed at the puppy farm where she never knew when her next meal would arrive.

We were thrilled and astonished that after only a few weeks of love and care, Shelby recovered from her past experiences. She began to relax and her cheeky, playful nature came shining through.

With your help, Shelby now has her happy ever after.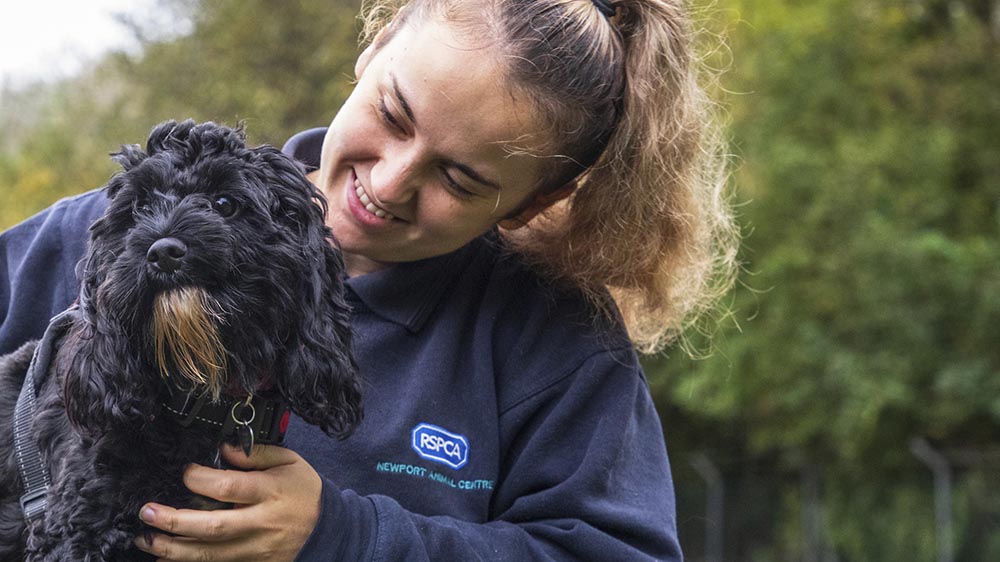 You helped turned Shelby's life around
How to volunteer from home
Would you love to do more to help dogs but are short on time?
Then micro-volunteering for us could be ideal. In just a few minutes, you can make a big difference by taking small digital actions, such as sharing our social media posts or signing petitions. We'll send you regular volunteering activities you can help with and you can track what you do via our RSPCA Volunteering App.
Sign up or see our other
volunteering opportunities
.
Did you know, spending a few moments picking up litter near your home is also a huge help?
Rubbish can be dangerous for pets and wildlife, especially newborn animals. Pick up a little local litter and you could save an animal's life.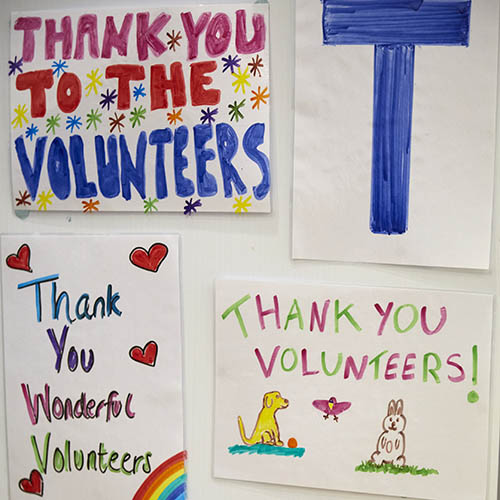 A chance to share your thoughts
You're invited to take part in a one-hour virtual research group, run by independent research company, Beautiful Insights.
The aim is to find out how you feel about being an RSPCA Sponsor and the information you receive, to help make Sponsorship as rewarding as possible for everyone. To thank you for your time, we're happy to offer a small optional gift.
Find out more and
register on our Your Say platform
. You can also register by sending your details to
rspca@beautifulinsights.com
. Beautiful Insights will contact you with details about when the groups will happen and to confirm your place.