Will you help our wildlife teams rescue, rehabilitate and release wild animals trapped in litter?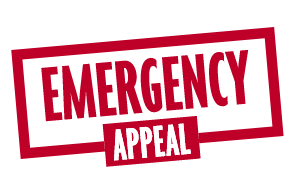 Everyday, we see horrific situations with our beautiful wildlife trapped in litter which has been thrown away without thought or care. Some have been trapped for days if not weeks, and often face a slow death without our fast response.
Sadly, as a result of the pandemic and discarded PPE equipment, this problem has only got worse and we have now reached a critical point. In particular, discarded face masks are everywhere, the straps can get entangled around the heads, necks and limbs of animals as they struggle to get free.
We're now in an emergency situation and fear the numbers of animals trapped could actually be a lot higher. Some of our most beloved animals like badgers and hedgehogs are nocturnal which often go unseen and we can only react to what the public reports. With people still understandably nervous about catching Covid, with many still choosing to wear masks, the reality of PPE litter is not going away anytime soon.
Your emergency support could help make a life-saving difference to a wild animal in desperate need.
Here are some of the vulnerable wild animals that needed our urgent help.

Gull trapped in face mask
RSPCA Inspector Adam Jones was called to an animal emergency involving a face mask. Adam said: "The gull had been sitting in the same spot for hours and didn't appear to be moving. I went out to catch him and when he tried to hop away he would stumble and fall - the poor thing had a disposable face mask tangled around both legs. It's clear the mask had been there for some time and the elastic straps had tightened around his legs - his joints were swollen and sore."
Thankfully after rehabilitation the gull was released back into the wild. However, we fear that this gull could be just one of many victims, now that face masks are part of everyday life.
£10 could go towards critical wire clippers to release wildlife

Seal suffers with two-inch neck wound
When we found Colossus the seal he had a two-inch deep wound that had become badly infected and he had lost a lot of weight. But thankfully, after completing the difficult task of removing the netting, we were able to start his treatment. He was worryingly quiet to begin with and almost motionless, but when he started hoovering up fish we knew he was on the mend! After a long period of recovery and rehabilitation, we were delighted to be able to release Colossus back into the wild off the coast of Norfolk.
£25 could buy salt bags for daily salt baths

Gull left hanging by its wing
Recently we were alerted to a gull left suspended from a tree by a discarded fishing line from an angling lake in Dawley, Shropshire. Animal Rescue Officer David attended the call. He said: "This poor gull was swinging backwards and forwards over the water, completely tangled up by its wing in the fishing line with no means of escape."
David was able to release the gull and immediately transport it for veterinary treatment. After 24 hours of rest, including a meal of fish and mealworms - the gull was successfully released back onto the lake the following day!
£40 could go towards heat lamps to keep rehab enclosures warm and cosy