Dog left for 10 days with severe burns learns to love again
A dog suffered second-degree burns and was left for 10 days without veterinary treatment because his owner said he couldn't afford it.

Three-year-old Buddy came into the RSPCA's care after an incident in which he was burned by hot water and his owner failed to get him veterinary attention until a social worker intervened 10 days later.

Now, two years on, Buddy's scars have finally healed and, thanks to his new family, he's learned to trust again.

As part of the charity's Cancel Out Cruelty campaign, the RSPCA highlights that dogs are four times more likely than any other pets to be the victims of cruelty- with 44,427 reports of dog cruelty made to the RSPCA in 2021.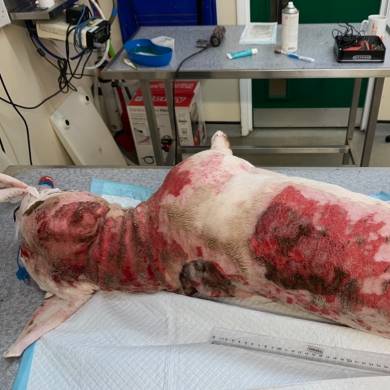 Warning: Contains distressing image of Buddy's burns.
Click/hover over image to reveal.
We urgently need your donation so we can be there for more animals like Buddy
Inspector Lauren Bailey, who investigated Buddy's case, said:

"Buddy was taken for immediate vet care for severe burns and a secondary infection which must have been incredibly painful. He was treated for weeks as he had extensive scalding to his right ear, head, neck, shoulders and back.

He cried when he was touched and would shake his head repeatedly. He received pain relief and antibiotics before going under anaesthetic to have his wounds cleaned."

Buddy had suffered first to second-degree burns and vets confirmed that he'd have been suffering since the boiling water was spilt on him until he was taken to the vets; 10 days in total.

Thankfully Buddy's physical scars healed thanks to expert vet care and dedicated rehabilitation by the RSPCA team.
The danger is rising this summer
Although he still has some fears and anxieties, the four-year-old has learned to trust again.

The mastiff cross was adopted by the Bushaway family after they lost their Rottweiler the previous year. New owner Lee said:

"He has settled in really well and is such a character; everyone loves him. He loves being with people and is very playful - he'll play fetch for hours! To look at him now you really wouldn't even know what he'd been through."

The RSPCA has launched a campaign to 'Cancel Out Cruelty' as figures released show that the charity receives a rise of 50 extra calls every day about cruelty to animals during the summer months.

With the increase in pet ownership and financial pressures growing we are sadly braced for a summer of suffering.