Ready to take the challenge?
There's one fun, animal-related activity to do every day. On your paws, get set, go!
Kids bored? We hope the bright young things in your life will enjoy getting stuck into our 30-Day Animal Challenge, having fun, getting creative and soaking up knowledge about the amazing animal kingdom along the way.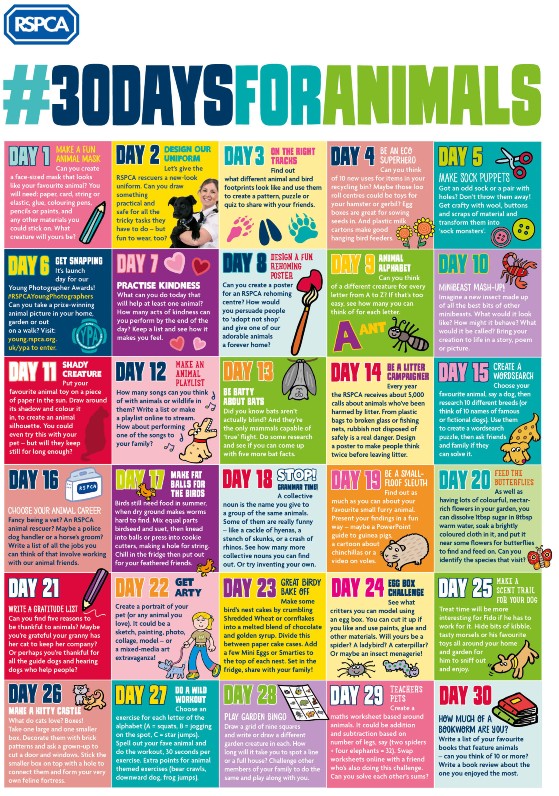 Download your own copy!
Get daily prompts across all our social media channels , where we'd also love to see how your family is rising to our challenges!
If your children enjoy these bite-sized animal-themed activities, they're sure to love our magazine for under 13s, Animal Action
Meanwhile, over on PopJam!
We're also sharing a version of #30DaysForAnimals over on PopJam, for your kids to access themselves.
PopJam is a secure social media platform for children aged seven to 12, which protects your child's identity and ensures they're safe while using it. Users on PopJam can follow people, brands, or charities. They can also interact safely with their friends, particularly important now as many children are feeling isolated and bored in lockdown.
On our PopJam channel, we share exciting content and activities to educate children about the natural world, spark fun chat and inspire a life-long love and understanding of animals. Download the app on your or your child's device from the App Store or Google Play and search for RSPCA.
Get involved
We'll be sharing the daily challenge on our social channels, so make sure you're following us on Facebook, Twitter or Instagram (or all three!) so you can join in. We'd love you to upload pictures of your child's creations using #30DaysForAnimals. Liked this? We have lots more free educational resources for kids.
---