null
Year of the rat: These rescue rats are hoping to celebrate the Chinese New Year with new homes
Year of the rat: These rescue rats are hoping to celebrate the Chinese New Year with new homes
Our rescue rats are hoping that the Chinese New Year may bring them some luck - and a new home.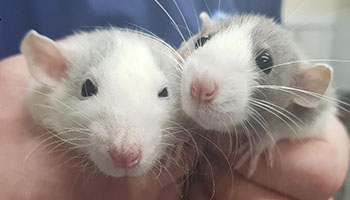 The Year of the Rat begins on January 25 and as the first sign in the 12-year cycle of the Chinese zodiac, it's associated with new beginnings.
The rats in our care are desperate for a new beginning of their own this year having come into our centres after often being unwanted or as victims of neglect or cruelty.
Rats are very misunderstood animals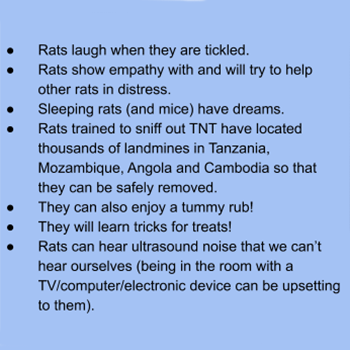 We recorded 807 incidents involving rats across the country in 2019, with 54 being related to the neglect. While, In 2019 alone, we took 80 rats into our care and rehomed over 50.
Our pet welfare expert, Dr Jane Tyson, said:
Sadly, rats can be misunderstood animals, and often aren't as popular as other smaller pets like rabbits and hamsters.
However they can make really rewarding pets - they're very intelligent animals and have their very own personality traits.
Please be sure to do your research before adopting a small animal - it's important to consider how much time and space a small animal needs as well as ensuring you have the right accommodation and location for that accommodation.
If you think you can find the space in your heart and your home this year for a new pet please look at our Find a Pet page to find a rescue animal in need of a forever home.
Rescue rats looking for homes
Pip and Ratilda
Pip and Ratilda are two young female rats available for rehoming at our Godshill Animal centre. We believe they may be sisters and they are both strongly bonded and so they will need to be rehomed as a pair. They're hand tame and inquisitive yet remain a little shy of new people. Pip and Ratilda love feeding time and always come out to play when they see people. Our volunteers love to hang out with them and they are sadly now our longest stay animals in the shelter. We would love to see these two adorable girls find their forever home.
Samuel Whiskas
Samuel Whiskas is available for rehoming at our Derby branch. Samuel loves to snuggle under his blankets in his hammock. He would be best suited to an adult home or one with older children where he can build his confidence being handled. Like larger pets, small animals require plenty of love and attention too.
Saturday and Sunday
Saturday and Sunday are the best of buds and really friendly characters. They're believed to be between three and four months of age. They are from a home that was overrun with rats and the situation had got out of control. They're super speedy when they come out to play but with regular handling, it should see them settle with their owner in no time. They are in tip-top health and have great appetites for fresh veg and Science Selective rat food. They can be introduced to an existing group or adopted as a pair. If you can offer them a home please get in touch with our Manchester and Salford branch with photos of your set up and details of existing pets in the home.
Ben
Ben is currently at our Derby branch looking for his forever home. One-year-old Ben would be looking for a quiet home with older children as he's not very confident being handled. For more information about Ben please contact the branch.
Find out more about our wonderful rats
Over the last few years, we've worked on our 'Love Rats' campaign to try and raise awareness of the traits of these remarkable animals. This has been done both through myth-busting and working to effect real change in the world of science.