Wild animals in circuses banned in Wales, just in time for World Tiger Day
Earlier this month, after 14 long years of campaigning, the Welsh Parliament voted through legislation that will ban the use of wild animals in circuses.
Wales is the 47th country to ban wild animals in circuses
July 29 marks International Tiger Day, and this year is particularly special as it's the first year that the critically-endangered tiger is to be banned from circuses in Wales, England and Scotland!
After voting through legislation earlier this month, Wales has now become the 47th country to pass some sort of animal circus ban - with the new law to come into force this December. This means that almost a quarter of the world's nations have now passed a ban!
This success follows 50 years of animal welfare campaigning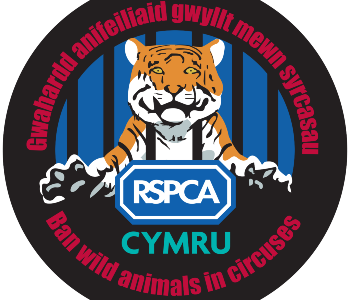 The UK is often seen as the birthplace of the circus and in the 1960s, many famous circus names such as Chipperfields, Robert Brothers and Billy Smarts toured with animals.
Indeed, Billy Smarts had over 200 animals in their acts including tigers, elephants and polar bears.

Luckily, as a society, we've moved on a lot since the 1960s; both in terms of our attitudes to animals in circuses as well as in terms of animal welfare needs. We're growing aware and considerate of how individual animals need to be cared for and looked after.
The first circus legislation to stop performing animals was discussed in Parliament in 1965. However, it wasn't until 53 years later, in 2018, that Scotland finally adopted the first ban on wild animals, followed by England in January 2020 and finally Wales this month.
This awareness-raising day, animal-lovers can come together to discuss and encourage support for the conservation of the endangered tiger. Given the RSPCA's focus on welfare, and recent news - we can also celebrate the powerful impact new laws will have on tigers now and in the future!
Tigers have long been mistreated
Sadly, for too long, the out-dated tradition of wild animals being carted around Wales and made to perform in the circus environment has been an uncomfortable reality. That's why - after consistent petitions, street stalls, campaign events and more - it was a real moment to savour when this practice was consigned to the history books with a historic vote in Cardiff, earlier this month.
Big cats have been among the group of animals facing the grim reality of forced performance in Wales in recent years - but, as of December 1, this so-called educational show featuring tigers will no longer be allowed to perform. So, this World Tiger Day, we invite you to celebrate with us!
The recent ban reminds us of the power of campaigning
Given the global challenges facing the tiger, the news that Wales will be supporting the ban will be a powerful force in lowering the number of mistreated tigers.
Although the number of tigers in circuses has been relatively small - it sets a powerful message about societal norms and values, as well as how we value wild animals, such as tigers. It also acts as a powerful reminder as to what organisations and the public can achieve when they campaign for what is right for animals.
The day will now very soon be upon us where tigers cannot be carted around England or Wales and forced to perform in circuses. For this year's World Tiger Day, we'll be joyfully celebrating the latest success for tigers and every step made in the right direction for all of our animals.
So - as the world marks the iconic tiger, on this eleventh International Tiger Day, 60-or-so politicians in Cardiff Bay have given us another cause for hope for the future of this beautiful animal. So - happy World Tiger Day, and remember - don't ever forget the power of your roar!
Keep up to date with campaigns and other news
You can keep up to date with all of our latest news by joining our email mailing list. See you there!
---