How our pets keep us calm: Meet team RSPCA and our pets
This National Relaxation Day, we're celebrating how our pets have helped us find calm in chaos and taught us a thing or two about taking some time out of the day to sit back and take it easy...
Meet the team and our furry friends
Unsurprisingly, we're a team of animal lovers here at the RSPCA! We'll be spending National Relaxation Day in style, taking it easy and relaxing with our pets. Let us introduce you to some of the RSPCA team...
Maddi McKinley, Social Media Officer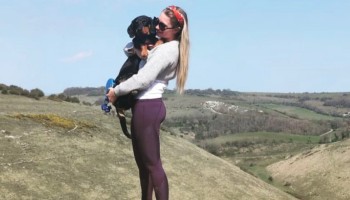 This is my lovely boy Wall-E! He's a Dachshund crossed with a rottweiler. Wall-E is the best cuddler in the world and can always sense when I am upset just by coming over and either putting his head or paw on my lap. He doesn't realise the positive effect he has on my mental health over the last year of having him.
Before Wall-E, I found it very hard to get out of bed in the morning if I had no purpose. Whereas now, our walks really help set me up for the day and put me in a positive mood. Working at the RSPCA, you can see some horrible stuff on a daily basis. Having my little sidekick by my side, providing me with unlimited love, really helps keep me motivated! He's always there to reassure me of the importance of why we do what we do.
Amy Ockelford, Senior National Press Officer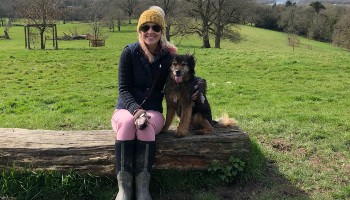 2019 was an incredibly difficult year for me, personally. After suffering a bereavement and dealing with ongoing health issues, I found real comfort and solace in Sammy. He'd been by my side since I adopted him in November 2013. Sammy was my shadow, my best friend, my constant companion!
He'd always been incredibly sensitive to my emotions and mood, and he just always seemed to know the days when I needed him. He'd curl up beside me on the sofa, nuzzle into my side and sit with me for hours, neither of us stirring. There are days where he was the only reason I got out of bed. He never failed to make me smile!
Tess Macpherson-Woods, Social Media Manager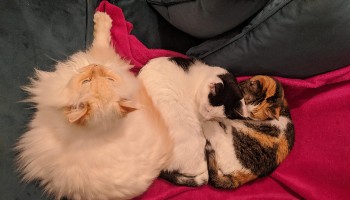 I'm lucky to share my home with my rescued kitty crew, Alfie, Bee and Bella. If I'm struggling to sleep, Bee's loud purr and her paws kneading my back will be sure to send me into a slumber!
Bella's funny facial expressions and ridiculous antics are always sure to raise a smile when I'm feeling glum. Meanwhile Alfie's joie de vivre (particularly for Dreamies) never fails to motivate me!
Without my pussycats, I'd be lost, and am grateful to them every day for the love and affection they show me!
Ren Shilcock, Fundraising Email Officer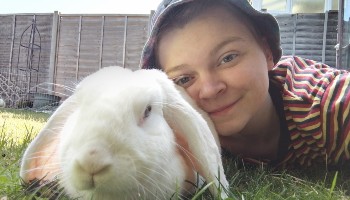 This is my rescue rabbit, Luna. I adopted Luna as one-half of a pair, but sadly we lost Marmite earlier this year. Luna is the most cheeky, confident and sassy rabbit I've ever known. She'll follow me everywhere (yes, even to the bathroom) and is always sticking her nose into things she knows she shouldn't! Luna's been my constant companion through lockdown.
Luna keeps me grounded and demands all the attention! I wouldn't change anything about her. We spend our evenings together in the garden - she hops around whilst I tend to my plants. She'll often come over to see whether she can eat anything that I'm tinkering with!
Luna's my daily reminder to take regular breaks and get fresh air instead of staying indoors. She's been such a help for my mental health over the last six months, following a spell in hospital at the beginning of the year. I don't think she realises just how important she is to me. I mean it when I say I'd do anything for her!
Hannah Gransden, Digital Content Editor
We adopted our two little kittens, Mushu and Mowgli last summer, and they have brought a smile to our faces every day since. The joy of their tired yawn or happy purr is like nothing else. Finding the two of them cuddled up in a knot truly never gets old!
Like many furry animals, they like to take a very relaxed approach to life - lounging in the spare room, head propped up on the pillow like it's their own! Their cat naps can be contagious, and a group snooze can make for a very relaxing Sunday. There's truly something very calming about a cat's company, and when they snuggle up to you (trapping you!) it can serve as a purrfect reminder to stop, sit back and relax...
Find out how to read your pet's body language
Want to make sure that your pets are feeling as relaxed as you are? Check out our guides to reading your pet's body language:
Looking to adopt a rescue animal?
We have so many animals ready to be loved and looking for homes right now...