Our wildlife centre is 'like a seal orphanage' following influx of pups
Our East Winch Wildlife Centre is caring for a dozen common seal pups - most of which have become separated from their mums too soon.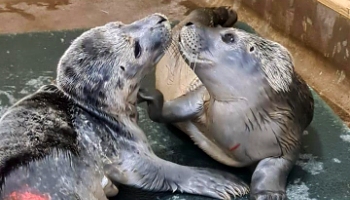 But there's a concern that now the pupping season is in full swing, well-meaning members of the public who see a pup resting on a beach are causing extra perils for some pups by trying to push them back into the water.
Seal pups use the beach to rest
Centre manager Alison Charles explained:
"Pupping season for the common seals is well underway and we already have a dozen pups to care for at our centre. We're like a seal orphanage at the moment.
"Common seal pups can swim from birth, but sadly some become separated from their mums too soon and that's how they end up in our care.
"However we're becoming increasingly concerned by reports that some members of the public are chasing pups back into the water when they see them resting on the beach.
"This is really concerning because the reason the pup is resting on the beach is likely because they're exhausted due to being so young and still building up their strength.
"They haul onto the beach to catch their breath and rest - but we're hearing reports that people have been chasing the seals back into the water, which is really dangerous especially if they're already exhausted.
"We've heard of more than half a dozen instances already this year about pups being chased off of beaches across the region, but what's more worrying is how many more instances like this are happening which we've not been made aware of.
We're currently caring for one seal, who we've named Cannellini, who was rescued from Corton, Suffolk on Sunday 12 July. It was understood that the day before, he had been chased back in the sea at Lowestoft, Suffolk.
Alison continued:
"He's tiny at just 9.35kg and is clearly exhausted, so like all the other pups that arrive dehydrated, he has been given an oral rehydration solution every three hours. The pups are usually dehydrated because they've been sitting on a beach in the sun or haven't been fed by their mum for a few days."
It takes months to rehabilitate a seal
Common seal pups weigh between 8kg and 16kg at birth and are with their mums for three weeks. As the pups can swim from birth some are separated from their mum too soon, and end up in care at the centre in the early part of the season - many of which have lost weight.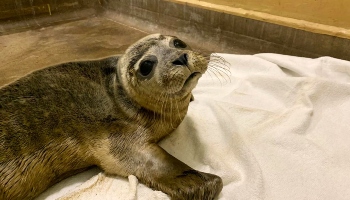 The road to recovery for the pups can be as long as five months and the path of rehabilitation following the initial oral rehydration solution can include progressing on to fish soup, which is a liquidised herring and oral rehydration solution via a stomach tube.
The next phase is trying to feed them small herring - in which staff assist - and from this, they will move on to feeding by themselves. They are moved into one of the pools to mix with one other seal so they have less human contact to ensure they do not imprint on their human carers.
Finally, they move into a deep pool with more seals so they can improve their fitness and ability to compete for fish. Once they reach their ideal weight and are fit and healthy they are released back to the wild.
Finding a seal pup on the beach
It's important that the public never approach seals and keep any dogs well away and on a lead, as these are wild animals and can have a nasty bite.
Instead of approaching pups you see, monitor them from a safe distance for a 24 hour period, to see if the mother returns before contacting our rescue team by calling the 24-hour emergency line on 0300 1234 999.
If you're unsure, we have more information on what to do when you find a seal pup on a beach.
Orphan seal pups at our East Winch centre
Our centre is full of beans at the moment with all the seal pups we're looking after.
Beanz - male 7.8kg Sutton Bridge, Lincolnshire admitted on 4 June
Chickpea - female 11kg Burnha- on-Crouch, Essex, admitted on 23 June
Black eyed pea - male one eye injured - 6.6kg Felixstowe, Suffolk admitted on 24 June
Quinoa - female 8.45kg Hunstanton, Norfolk admitted on 25 June
Has bean - male 10.6kg Shoeburyness, Essex, admitted on 28 June
Chilli Bean - male Old Hunstanton, Norfolk, admitted on 28 June
Sweet Pea - male 11.55kg Snettisham, Norfolk, admitted on 29 June
Butter Bean - female 10.8kg Clacton-on-Sea, Essex, admitted on 1 July
Cocoa Bean - female 8.5kg Burnham-on-Crouch, Essex admitted on 1 July
Cannellini - male 9.35kg Corton, Suffolk admitted on 12 July
Mung bean - male 11.3kg Snettisham, Norfolk, admitted on 12 July
Pigeon pea - male 10kg Essex, admitted on 12 July
If you want to support the seals at the centre, our East Winch Wildlife Centre has an Amazon wish list of items that are most in need.
---