null
Why animal welfare in schools will help build a kinder generation
Why animal welfare in schools will help build a kinder generation
A guest blog by 14-year-old, school student and supporter, Skye.
We all learn how to look after ourselves. How to sleep well, eat well and exercise well. So why - when an estimated 12 million households in the UK own pets - don't we learn how to look after those who we are responsible for, to the same extent?
Why do we need animal welfare taught in schools?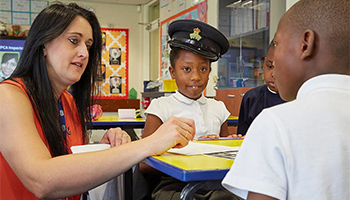 Around 51 million pets live in the UK - that's not far off the human population - and that's excluding wildlife and farm animals. Considering this, I strongly believe the introduction of animal welfare lessons into the school curriculum is vital.
The need for better animal welfare education isn't limited to pet owners. Even though not all households contain pets, most homes still recognise the value in animal welfare education. Despite 55% of UK homes being pet-free, a staggering 97% of school pupils still believe that learning about animals and their needs is important.
For some, animal welfare and animal cruelty may seem like an issue that can be left at the back of the mind, however, considering the extent of animal cruelty issues, I would strongly disagree.
Whether children have experience with animals or not, just under half of 10-15-year-olds have witnessed a form of animal abuse - whether it be on social media, films or real life.
What is Generation Kind?
In October 2019, the RSPCA celebrated their one year anniversary of Generation Kind. This is an initiative that I have been involved in that forms a collection of 'innovative projects that aim to nurture and encourage the values of kindness and compassion'.
Focusing on young people in schools, disadvantaged young people and young offenders, the Generation Kind initiative has had over 1,000 primary schools in England and Wales take part in Compassionate Class activities, and 506 secondary schools take part in the Great Debate. Plus, over 6,000 disadvantaged young people have taken part in Wild Things at their Birmingham and Mallydams centres - so far.
That's almost 100,000 young people in the first year already who will be equipped to help bring a kinder generation forward in the future.
Is animal welfare education really necessary?
While the number of juveniles harming animals is low, with greater understanding, cruelty is an issue which can be stopped altogether.
Recent stories of cruelty include four teenagers who threw bricks at sheep and snapped off their horns. The blood at the scene was described as similar to murder and Anna Presswell (a police staff investigator) commented:
The incident was truly shocking and from [personal] experience, this was the most severe case of cruelty caused by children to animals.
The sheep were described as 'visibly shaking and panting'. The offenders have since been given community sentences. Three of the children were given a 12-month referral order and the other, a 12-month youth rehabilitation order.
If this story leaves you shocked - it should. Sadly, appalling behaviour such as this is not only happening but is also easily accessible through the rise of social media. With platforms such as Facebook, Instagram and Snap chat being a leading communication channel for young adults - cruelty videos are unfortunately not always avoidable.
Since 2015, videos on Snapchat of animals being deliberately run over, put in washing machines and hit against walls has increased by over 500%.
The importance of empathy in child development
Of course, my main concerns are the pain and suffering animals subjected to abuse have to endure. Yet, let's take a step back for a second and look at us - at how animal welfare education can impact us, as humans, for the better.
Generation Kind not only aims to teach children about the needs of animals, but it also helps to develop empathy in young people. Empathy is extremely important in child development. It influences children's prosocial development and altruistic behaviour, encouraging selfless behaviour that benefits others and society as a whole.
To go even further, the NSPCC and RSPCA have an arrangement of cross reporting and as an example, the NSPCC saw 51 referrals from the RSPCA between April 2016 to March 2017. Despite the small numbers, there still exists a problem. Surely as schools try to safeguard their pupils they should also be helping to protect animals as we realise that the worlds of child and animal abuse are more closely linked than people might realise.
Considering that violent crimes were recorded by police in England and Wales in January to have risen by 19% in a year - my question is, why hasn't animal welfare been included into the school curriculum already?
Why we need your help
With Initial Teacher Training projects and petitions, the RSPCA is desperately trying to reach out and show the importance of animal welfare yet they can't do it without the help of supporters.
So I am calling on you to do something about it - tell people, sign a petition or donate. I promise that we can get a step closer to showing the world the importance of our beloved pets, wildlife and farm animals and why we should look after them - if we work together.