Who can adopt a rescue animal? 11 common myths debunked
Whether it's Adoptober or any month of the year, we're always celebrating the amazing and diverse animals in our care who are ready to be loved and on the lookout for their forever homes.
If you've not adopted a pet from us before, you may not know what to expect! Maybe you've heard that you can't rehome an animal without a garden or if you live near a main road. We've heard them all and the truth is - we don't have any fixed rules or a blanket rehoming policy.
While in some circumstances an animal may not be right for a particular home or owner's lifestyle, it's not often the case and the only way to know for sure is to reach out! We want to pair up each animal with their perfect family and there's no special formula for that. Therefore, every match is made on a case by case basis.
Plus, just because the first animal might not be a match, it doesn't mean that the next one won't be! Our primary concern will always be whether the adopter will meet the welfare needs of the animal. If you believe you can do so, then please don't hesitate to get started. Come and see us, you might be surprised by which animal you match with!
Still unsure if you could adopt? Here are some of our most commonly heard myths - busted by our dedicated rehoming team...
1. "I would like a cat - but I live near a main road."
If someone lives on a main road in a busy, built-up area, they might not be suited to a cat that's likely to roam and explore. However, rehoming a cat who would stay indoors or who is not likely to venture far from the garden could be a perfect match!
An owner can also help by not letting the cat out at night, making sure that they're neutered and by letting them out gradually - using treats to encourage them to stay away from main roads.
2. "I already have multiple pets."
Whether a potential owner can adopt a rescue animal, in this case, would be dependent on the space available and the ability of the owner to manage and ensure that all pets remain happy and stress-free. For example, the owner would need to ensure that each animal has his/her own safe, quiet space.
It's always worth noting that every case is different, and some pets may prefer to be the only pet in the household while others may like company!
Generally, we would be wary of rehoming predator and prey species together. However, the fact that someone has multiple pets at home would not influence their eligibility to rehome a horse or pony, for example. Ir really does dependant on the animal, the home and the individual situation.
There's no sure way of telling how animals will react to each other in the home, but centres/branches will always offer support and advice to help adopters work their way through any problems that may arise.
3. "My garden must have a six-foot fence for me to rehome a dog."
We know that most dogs don't leap over fences and that a normal secure boundary (which they can't easily climb!) should be enough to keep them safe.
Of course, if the dog is very large, agile and has shown that he likes to jump or has been a bit of an escape artist in kennels - then a high fence would be more sensible! A commitment to supervising the dog when loose in the garden is key.
4. "I'm on benefits."
Discussing affordability is essential, especially in terms of insurance and vet care. If you can provide the care that an animal needs, including financially, then there's no reason you couldn't adopt! Our team can always guide potential adopters to a pet that may be more suitable for their financial situation.
5. "I work full time."
We advise that dogs shouldn't be left for more than four hours at a time. Of course, this doesn't mean that you can't take advantage of dog walkers and dog sitters. Perhaps you're lucky enough to be able to take your dog into work with you!
If you're working from home during the coronavirus pandemic, please consider how your routine will likely change before rushing into any long-term commitments.
Read our blog: Help your pet adjust when you go back to work after lockdown.
6. "I have unneutered animals in the house (of a different species)."
Generally, most of the animals we rehome are neutered prior to adoption (except those that are too young). We wouldn't typically rehome two unneutered animals of the same species. However, we wouldn't discriminate based on if someone had an animal of a different species at home that was unneutered.
7. "I would like a dog but live in a flat / house without a garden."
This one depends on the suitability of the rescue dog, the environment he/she requires, whether they're housetrained, and whether the potential owner is able and willing to take the dog outside regularly throughout the day.
Of course, we rehome lots of different animals who are all looking for homes - you might just find that you fall in love with an indoor cat or a small furry instead!
8. "I'm over the age of 75/80."
There are many cases where animals can be perfectly suited to more senior adopters. Each individual's unique circumstance, ability and support network will be considered fully. We get a lot of older animals in our care who often struggle to find a loving home. An elderly individual could be their perfect match!
9. "Our household has a child under the age of five."
Animals who have been adequately socialised with children may be fine with a young, excitable and impulsive (supervised) child. While other animals who are more nervous and less socialised to children may benefit from an older or calmer child.
10. "The RSPCA only rehomes dogs and cats."
We have many different animals looking for their forever home, including small furries (such as rabbits and hamsters) as well as horses and ponies. With rescue horses, one myth is that we only rehome companion horses, however, we also rehome ridden horses - some even go on to do show-jumping or dressage!
We also rehome more unusual animals like farm animals and exotic reptiles. When it comes to exotic animals, potential adopters will have done their research and will understand the needs and the correct set-up for the particular species before they take a rescue animal home. Staff at our centres can also help provide advice and ensure equipment is set up correctly.
11. "I can't adopt a rescue animal during the coronavirus pandemic."
We're still working hard to rescue and rehome animals during the coronavirus pandemic. Restrictions in England and Wales are changing regularly and we have needed to alter our adoption processes to ensure that we're meeting government requirements and keeping people safe at all times. Currently, we're mostly rehoming animals using a remote process.
Read our blog: How do you adopt a pet during Coronavirus?
Depending on local restrictions, we may be able to allow some visits by appointment or we might need to deliver the animal to you. It's important that you check with your local centre about what their requirements are beforehand.
Find out more about our temporary changes to our adoption process due to the pandemic.
Why adopt a rescue animal anyway?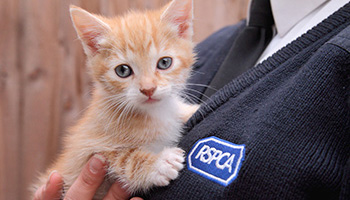 While it may be easy to find animals on the internet or even spend hundreds on an expensive breeder, you could risk heartache or huge vet's bills if you don't do your homework.
By adopting and not shopping you'll also feel good for doing good - by giving an animal a second chance at life in a loving home!
Plus, adopting from us means that you can relax knowing that all our animals are healthy, neutered, vaccinated and microchipped.
As with all the animals we rehome, we'll pass on the details of their behaviour and veterinary treatment. You'll likely know more about your rescue animal's history than if you were to buy an animal online!
We've taken the time to get to know each animal as an individual, to understand their likes and dislikes and to prepare them for life in a loving family, which means there are less likely to be nasty surprises when you get home!
When you adopt a cat or a dog from one of our centres, you'll also get four weeks free pet insurance, which is vital to protect your pet's future as well as your bank balance! There's so much to gain from rescuing an animal in need.
Why not take a look at our rescue animals looking for homes?
If adopting isn't an option - Why not volunteer?
Our centres and branches are always looking for volunteers to help with dog walking, socialising, and many other jobs! Getting involved as a volunteer is a great way to spend time around animals, offer a helping hand and get the therapeutic benefits these lovely animals offer - without the expense or ongoing lifelong commitment!
Why not find out more about the many ways you can get involved?
---