We've got Christmas all wrapped up!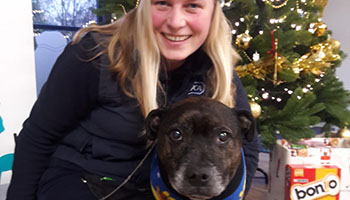 Animal carers, call handlers and inspectors will be giving up their Christmas to look after animals most in need.
While many people tuck into their Christmas dinners on December 25, our officers, animal carers and call handlers will be working to protect those animals most at risk of cruelty and neglect.
Another busy Christmas ahead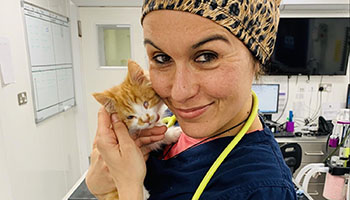 Sadly, animal emergencies don't stop over the festive period - our helpline received 934 calls last Christmas day - the highest number for five years and almost a third more than in 2017.
We expect to take in more than 10,000 animals in need this winter, and our officers will be on call 24 hours a day, as usual.
Last December, there were more than 61,000 calls coming through to our cruelty line, up by more than 5,000 the previous year.
Hub manager at our control centre, Ellie McGarry, has worked for us for four years. This will be her third Christmas day working. Ellie said:
I've volunteered to work Christmas this year as I know how important it is to be here taking calls for the public.
We do have a job to do and that is our priority but we do also try to have fun together on the day too. Everyone pulls together and brings in nice food and treats to help make the day special.
We have competitions and decorate our pods so we can feel festive in the run-up and give everyone a morale boost.
It's a normal working period for us as people have an expectation that we'll be on the end of the phone and that's a responsibility we take seriously. Of course, we do also make time to indulge in a mince pie on December 25!
Our Animal Collection Officer, Jill Sanders, has worked for us for 23 years and volunteers to work Christmas every year. Jill said:
I volunteer to work every Christmas and I'll continue to until I retire. I enjoy working it and it means that others in my group who have young families then have the opportunity to spend it at home.
You never know what you're going to get at Christmas. It can be quiet or very busy, but everyone is always in a good mood and pleased to see you. You'll often get offered a mince pie, especially by people who are on their own and who appreciate the company.
When I reach retirement age I'll have worked 26 Christmases for the RSPCA and I hope that I've made a difference in that time to the lives of animals who have needed us.
Christmas day at the animal centres
Our Animal Care Assistant, Hanna Potbury, at Millbrook Animal Centre in Chobham, Surrey will be working in the kennels on December 25. Hannah said:
I really enjoy working over Christmas, it's a team effort and everyone is always really jolly. Any donations of food or toys we get in the run-up to Christmas get saved so that on Christmas morning every dog gets a new toy and a treat, to make it that bit more special for them.
Often family members will come and help out on Christmas morning with cleaning the kennels so that makes it a fun atmosphere. All the dogs still need their walk and food as it's just like any other day to them. We're very busy in the kennels this year so there is plenty to do!
Our vet at Putney animal hospital, Laura Ruiz-Oliver, will also be putting in a full shift on Christmas day. Laura said:
Christmas is a very busy time for vets as there are a lot more hazards in the home.
We see lots of dogs suffering from intoxication from grapes, raisins and chocolate. Also, foreign bodies lodged in their throat from new toys or other items they have found around the home which have made them choke.
We do see a lot of older animals coming to the end of their life sadly too in the winter months and Christmas is no exception to that. Our inspectors and animal collection officers are also still out there for emergencies like animals who have been run over or abandoned, so we do tend to be very busy.
I'll be working alongside a nurse, there are usually three or four of us so we'll try to stop for lunch and have some nice food together to feel festive - but as with every other day the animals always come first.
Some of our staff have worked christmas days for nearly three decades
Our Inspector, Liz Wheeler, is working on Christmas Eve and Christmas Day - she has been with us for 32 years and has worked 28 Christmas days. Liz said:
Christmas Day can be really varied. I have been called out to abandoned animals, injured deer, and horses in flooded fields - you never know what you're going to get.
Everyone is usually in good spirits and grateful that we're on the end of the phone to try to help with any festive emergencies.
How you can help
This winter, we expect to take in more than 10,000 animals in need. To help us deliver vital supplies to thousands of abused, neglected and abandoned animals left out in the cold this Christmas, you can Stock the Sleigh today.
---