We support calls for Animal Sentencing Bill to be made law by Autumn
We're supporting calls for tougher sentences of up to five years in jail for the worst animal abusers to be made law by Autumn.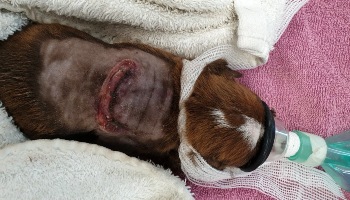 We deal with some of the worst cases of neglect and cruelty and have long campaigned for tougher sentences for animal cruelty offenders. We fear that the pressures on Government dealing with the Coronavirus crisis means the important Animal Welfare (Sentencing) Bill could be forgotten.
David Bowles, our head of public affairs, said:
We're pleased to see the opposition calling on the Government to get the Animal Sentencing Bill on the statute books by Autumn. As a charity which deals with some of the worst animal cruelty cases, we believe the current sentencing provisions, which only allow for a maximum of six months in prison does not go far enough.
Sadly, cruelty has not stopped during the lockdown and we're very concerned about the welfare impact of an expected financial downturn, so now more than ever we need to see animals protected and sentences increased.
Since the Government announced the lockdown on Monday 23 March, our frontline officers have dealt with more than 47,000 incidents (up to 31 May 2020, including 21,137 incidents up to the end of April).
Acts of cruelty we've seen since lockdown
Our animal rescuers have been designated key workers by the Government and have continued to work throughout the Coronavirus crisis and still rescuing animals and investigating awful acts of cruelty inflicted on animals.
Staffordshire Bull Terrier found beheaded
An exceptionally distressing case is Hollie, a Staffordshire Bull Terrier, who was found beheaded on the patio of her home and with her front leg severed.
Her distraught owner Andrea Jarvis discovered the gruesome discovery when she returned to her home in Wolverhampton last week. We're now appealing for information to find the person responsible for her death.
Tiny newborn puppy discarded like rubbish
Since the lockdown, we have also dealt with an incident involving a tiny newborn puppy who was dumped like rubbish and discovered with a large gash across her back. The puppy, aged between 10-14 days old was discovered in Huddersfield in May.
At just a few weeks old, the young Staffie puppy was extremely vulnerable and too early to be away from her mum. She was also suffering from a serious injury - a large wound across her shoulder area which needed urgent treatment. We're continuing to appeal for information on what happened to Mabel.
A dog dumped in a lake
We've also been investigating after the body of a dead dog was found floating in a lake in Essex with a motorbike chain wrapped around its body and attached to a black harness. The poor dog's body was discovered during lockdown on 8 May and our frontline officers are investigating.
Longer prison sentences for fly-tipping than killing an animal
David added:
"Sadly, the current maximum sentence under the Animal Welfare Act 2006 means you could face a longer prison sentence for fly-tipping than beating an animal to death. As a nation that prides itself on its love of animals, this is simply not acceptable.
"We were thrilled when the Cabinet approved this Bill back in June 2019 but since then it has fallen twice and little progress has been made while cruelty continues.
'We hope the Government will listen to the calls made by Labour today (Monday 8 June) and make this Bill law as soon as possible. This will give courts the powers they need to punish those responsible for the most unimaginable cruelty to innocent, defenceless animals. We also believe this would act as a much stronger deterrent and hopefully help us stamp out animal cruelty once and for all."
To help us keep rescuing animals like these and keep our animal hospitals and centres running for emergency treatment and round the clock care through these unprecedented times, please donate online.
---